RUSSIAN SLAVES
Russian Slaves #7

Produced and Directed by Nettles Corporation
Russian with English Subtitles
2nd review by Collector posted 12/14/07
Nothing left to say about the unfathomablably bad production qualities of these Russian oeuvres. At least they've been watching their competition and they've learned how to spank and harvest ample supply of pretty bottoms. This one features several girls in trouble at their employment. A male disciplinarian has three girls in a silly setting--a stockroom or storeroom?

Ksenia, an exotic Eurasian girl, is scolded for some offense beyond the skill of the subtitle department and drops her jeans and panties to go OTK for another girl. She is a nice package; during a brief crisp handspanking she apparently tinkles on the spanker's lap; there is laughter on the set; Sveta, a blonde, enters and joins the hilarity, earning herself a jeans-and-pants-down OTK session herself. Ksenia stands to the side facing the action, naked from the waist down, giving us a continuous view of frontal nudity.

Bizarre is the norm for these producers and plot continuity irrelevant. Sveta must kneel red bottomed and naked on dried peas, a struggle for sure. At least Lupus spent some money on a washboard. Brunette Ksenia will now be paddled, across a desk. The male supervisor brandishes a thick round wooden paddle, more ominous than you usually see. He cracks her four times and she's very impressed, nervously watching him circle between strokes. On the fourth stroke, the paddle shatters--how Russian! She jumps up and displays the unmistakable round bruises. The boss continues with a leather paddle--Ksenia's tears are visible, and we're buying it. Her bottom has become thoroughly blotched and bruised.

Blonde Sveta is brought back for more. She must take her spectacles off, the sexiest moment in the film. She bends over the desk, pants down, for a heavy full-swing strapping. The strokes we see seem genuine, square red strap-marks materialize as we watch. Ksenia holds her wrists in place. Facial shots are too placid--we suspect the strap is not always landing. But Sveta does some good crying and fearful watching of the pacing strap man.

An incongruous cut to a girl tied down nude with Asian knots in the diaper postion, being tormented in the usual places with clothespins. Then, it's hot wax, with a number of intimate areas made available by this exposed posture. She struggles deliciously.

Sveta is back, nude on an examining table, crying up a storm. This looked promising, but nothing happened. We cut back and forth.

At last, Eurasian Ksenia, nude and lovely in all respects, is being strapped over a pool table. Problem is, we never see her bottom, just her face and the manacing male strapper bizarrely wearing just a towel. Either she wasn't being "belted," as they subtitled it, or the inept crew couldn't fit in a good camera angle between the wall and the table. We're giving up on Nettles.
Russian Slaves #7

Produced and Directed by Nettles Corporation
Russian with English Subtitles
Reviewed by John O'Connell
Russian Slaves 7 is set in a work environment where the girl to be punished has lost files, making the boss upset. He assigned a woman, most likely some type of supervisor, to be the punisher while he looks on from his desk. The tank top and jean sporting brunette enters the office and expresses her sorrow for not doing her job well and promises to do better from now on. Of course the boss had no interest in listening to this, so he orders her to lower her pants and underwear. Keep in mind that the film uses English subtitles and occasionally things do get lost in the translation, but you will get the general idea of what is being said. The young brunette is hesitant at first to comply, but he tells her that if she doesn't lower her pants, then her co-workers will be summoned to do it for her. She slowly moved from her statue-like stance and proceeds to lower her jeans to her knees, followed by her black thong. The spanker takes a seat in a wooden chair and then has the forgetful worker lay across her lap where she proceeds to give her a hand spanking. She breathes hard and fast obviously disliking her punishment and when she lifts herself up, it appears as though she lost a little of her bladder control, leaving wet spots on her punisher's clothing. A blond worker passes by and laughs at the incident, finding it rather amusing that the punisher has been indoctrinated with a golden shower. The boss on the other hand doesn't find anything amusing about this.

For laughing the blonde is told she will get the same. She places her glasses on the desk and assumes the same position the brunette was just in. Her black skirt is raised, white thong lowered, and the punisher proceeds to give the blonde a hand spanking. The punisher seems to be getting a sore hand, as she waves it in the air a bit, trying to cool it off. The boss then orders the blonde to fetch a bag of old peas which she must lay out on a cloth covered board that is near the boss' desk. She spreads the peas on the board and then kneels down with her hands on her head. She is told she will kneel on them for one hour. Several camera shots later, it is presumed a fair amount of time has passed and the brunette must now suffer the second portion of her ordeal. She is told she will receive ten swats with the paddle and is ordered to bend over the desk. The boss will do the punishing this time, apparently feeling the girl he chose didn't turn the girl's bottoms a sufficient shade of red. He wastes no time and unleashes several hard swats that cause a welt to form on the poor girl's right cheek. To add insult to injury, the paddle breaks which only adds to the boss' unhappiness. He fetches a leather paddle and then resumes the punishment. The brunette cries and screams before the ordeal finally comes to a close and she is made to stand in the corner with her hand on top of her head. The blonde is then allowed to leave the altar of peas only long enough to assume the position over the desk for her own round of the leather paddle. The boss spares no strength and before long the blonde is wiping away tears and yelling loudly herself. The facial camera shots in this sequence are quite nicely done. The film then seems to come to an abrupt ending, so I'm not sure if that's where it was intended to finish or if there had been some technical issue. Either way, the both girls were soundly punished.

I thought this film was pretty good. The hand spankings could have been a tad longer, but the paddle sequence does make up for it. Even if not in quantity, most certainly in quality. The girls are pretty and I'd say the acting is fairly good, considering I didn't understand a word of what they were saying. Again, subtitles come in handy in that regard. The video and sound quality is average and the running time is around 30-40 minutes.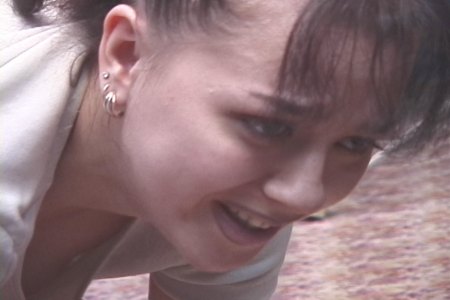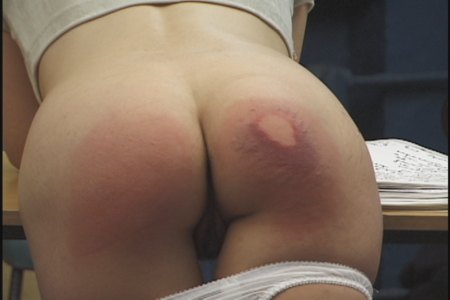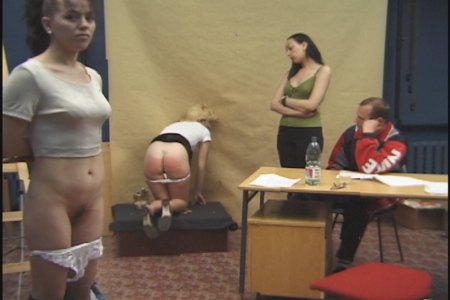 Back to Russian Slaves' Review Page
Back to Reviews Page
HOME


Support our Free Achive Spanking Site by joining one of the sites below.

Marked Butts - Spanking Online - Realspankings - Firm Hand Spanking - Girl Spanks Girl - Clare Fonda Pass - Punished Brats