RUSSIAN SLAVES
Russian Slaves #8

Produced and Directed by Nettles Corporation
Russian with English Subtitles
Reviewed by John O'Connell
Russian Slaves 8 is a two part film. The first part features interviews of four girls that applying for parts at Nettles. The second part is skit that has a maid punished for spilling a bottle of water. I found the first part rather interesting, as I don't know if this exact scenario has been done in a spanking video before. I've seen interviews which then have the young lady spanked afterwards, but this is like a real job interview with a spanking test. It's rather enthralling to watch. The first candidate is a nineteen year old brunette from Moscow. They all say they are from Moscow, so whether or not they are really from that particular city or not remains to be seen, nor is it really relevant. The young lass is wearing a nice business suite and after a few quick questions, it's time to get down to work. She is made to strip to her black bra and thong and walk around the room like a fashion model. She then removes her undergarments while the interviewer looks her over. He comments that they may have to shave her pubic regions and a slight look of shock comes over the girl's face. She is made to bend over the stool before a spanking test is administered. Another man now enters the pictures and gives her a few slaps on the bottom while she lays across his lap. She is then led around the room on a dog leash while being slapped on the bottom with a strap. Nothing overly hard, just looking to see how she reacts. Finally she is given a few more swats while bent over the stool before this interview comes to a close.

The next contestant is also a brunette, but appears to be a little older. Also stating she is from Moscow, she is made to remove all of her clothing and prance around the room stark naked. She is made to bend over and grab her ankles, as well as bend over completely backwards. Ok, I'll say it, I was impressed. I'd probably end up in the emergency room if I tried that one. Next it's on to the spanking test. She goes over the knee and finds herself in a fit of laughter. Even the man trying to spank her is not immune to the contagious nature of the giggles. Still laughing, she is then led around the room by a rope and then is finally give the strap while bent over the stool.

Well Rob, who's the next contestant on the interview game? Well her name is Olyssa and she's from, you guess it, Moscow. This nineteen year old is most cute and is made to read a script of some sorts. We don't get to find out what exactly she's saying, but it appears as though she becomes somewhat embarrassed by whatever it is. She is made to remover her jeans and dances around the room in her black thong. Not a bad dancer I might add. The segment ends when she lowers her panties, so one can only guess that she didn't make it to the showcase showdown.

The last item up for bid...I mean interview is with Victoria, a 25 year old woman with brown or dark blonde hair. This native of Moscow is made to strip down to her black thong and bra and dances about the room. She is probably the best dancer out of the lot and seems to get into her work. She makes it to the spanking test and is spanked with both a hand and a paddle. I found this section to be quite unique and hope that Nettles does this again in the future. This was truly a different approach.

The skit portion of the tape begins when a young brunette maid tries to fill the master's glass with bottled water. She ends up spilling it on to the table, which upsets the master considerably. When told she will be punished, she begs and pleads, actually grabbing hold of the man's leg. Her orders her to get up and go to the yard and fetch some birches. She returns with several birches, which the master inspects to make sure they are good enough. He is satisfied with the instruments of pain and orders her to remove her maid outfit as well as her black thong. Once ready, he ties her in between the rungs of a step ladder, so her bottom is thrust outward. Interesting idea really. She is given a good thrashing which causes her to cry and wail. Her bottom bruised and red, she is made to get those damned peas and spread them out on the floor. The video ends with her kneeling on the peas while her hands are placed on her head.

I found this video to be rather unique due to the interview portion of the tape. The reactions the girls give to different questions or being asked to do certain things are real, and in of themselves priceless. The sound and video quality are average and the running time is around 40 minutes.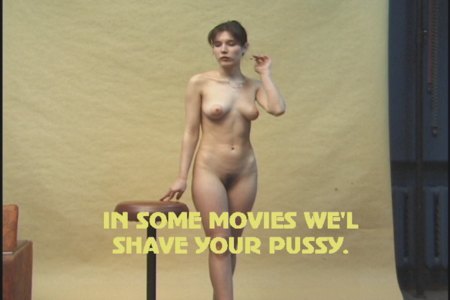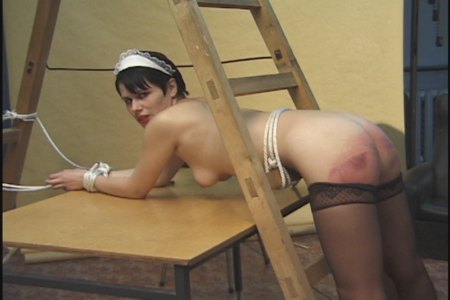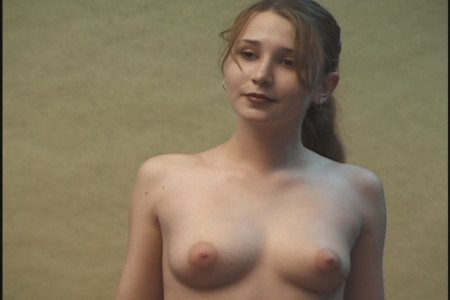 Back to Russian Slaves' Review Page
Back to Reviews Page
HOME


Support our Free Achive Spanking Site by joining one of the sites below.

Marked Butts - Spanking Online - Realspankings - Firm Hand Spanking - Girl Spanks Girl - Clare Fonda Pass - Punished Brats