PACIFIC FORCE

Photos are ©2002 Pacific Force, Inc. Used with written permission. Unauthorized postings will result in prosecution by Pacifc Force.
Serious Hard Spankings

Written by: Mistress Jacqueline
Directed by: Vinnie Spit
Featuring: Mistress Jacqueline
"The Nanny"
Gia
Breeze
Reviewed by: David Pierson
After two big production videos with large ensemble casts, " Serious Hard Spankings" is a return to basics for the Pacific Force creative team. In this terrific video we are treated to two stories (A Pacific Force double play) of the punishments of underachieving college girls.
The first story in this very enjoyable double feature is called " Gia Gets a Serious Hard Spanking". Gia is an attractive college girl visiting home during spring break. Gia has been spending too much time partying and not enough time studying. In an effort to reach this misguided coed, Gia's English Nanny (Doesn't everybody have one?) attempts to discuss the issue with her former charge. Gia's " Nanny" is a statuesque red headed English woman of uncommon beauty. Gia rejects her Nanny's concerns exclaiming, " Blah, blah blah... I am out of here". Those were the last words that the lovely Gia would utter though the rest of this story with the exception of " Ouch!... Not the Brush!....Please Stop!". It is at this point that we learn that this Nanny is no Mary Poppins and it will take more than a spoon full of sugar to help Gia deal with the medicine that is being dispensed. For failing to heed her Nanny, Gia is subjected to a long and harsh spanking. Gia is pulled across Nanny's knee and spanked hard over the seat of her designer jeans. After a few minutes, Nanny forces Gia to lower her Jeans and she is spanked over her panties. Eventually, Nanny pulls down Gia's panties exposing her lovely but bright red bottom. By this time, Nanny has begun to use a hairbrush as part of the chastisement. Gia is pleading with the Nanny not to use the brush. Unfortunately for Gia (and really good for us), her Nanny was unmoved. After finishing with the hairbrush this resourceful red headed dominant reaches for a ping -pong paddle that was covered in black leather. I believe that this particular type of paddle was banned from actual tournament play by the United States Table Tennis Association after they saw this video. Each whack of the leather covered table tennis bat (as the English would say) bought a yelp from young Gia's mouth. After a good dose of the paddle, the Nanny started to spank Gia with a nasty looking leather strap. Ms. Gia could barely hold still during this phase of her correction. This Nanny may not have the qualities of a Mary Poppins, but she does have a bag of tricks. After striking the lovely Gia's bottom numerous times with the strap, the Nanny reached into her magic bag and came out with a cane. The Nanny ends the punishment of Gia with several swishes of the cane. The story ends with Gia bent over a couch with Nanny massaging the naughty coeds excoriated behind.
The second story in this terrific double feature is titled " Breeze Gets A Serious Hard Spanking". This story stars Mistress Jacqueline and, newcomer, Breeze. In this story, Mistress J. is the landlord of slacker college student Breeze. Breeze's mother has asked our lovely Mistress to keep an eye on her daughter as she is away from home for the first time. Breeze's mother also shared with Mistress Jacqueline that good spanking should help keep her daughter in line. (Thanks mom.) When Breeze comes home with a very bad report card she finds her landlord quite willing to follow moms spanking prescription. Let me stop my review here and speak directly to any young people who are thinking about rooming with Mistress Jacqueline. You would do well to keep your nose clean, keep your grades up and pay your rent on time. What's the worse that could happen you ask? Let me refer you to Meagan from " Spank The Girls And Make Them Cry", or Angela of " Angela Gets A Superhard Spanking" (Triple-Play #8) and Breeze. Now none of you can say you weren't warned. Unfortunately my admonition comes too late for young Breeze.
In an effort to get Breeze to mend her ways Mistress Jacqueline applies her special form of behavioral modification. She places Breeze over her knee and administers a severe hand spanking that was initiated over her skirt and then applied to the seat of her panties and finally to her bare bottom. Eventually, Breeze is whimpering in pain as the stern landlord applies a hairbrush to the coed's naked backside.
Breeze is subsequently treated to several swats with two different paddles.
In a very nice touch, Mistress Jacqueline has Breeze write a plan of behavioral correction while she is sitting on an upside-down car mat with the spikes digging into Breeze's sore bottom. I think young Breeze got the message and so do we. Breeze learned that it is important to keep up her grades and not waste her mother's money. What's that? What did we learn? I guess the moral of the story is that watching cute college girls getting spanked is quite a turn on.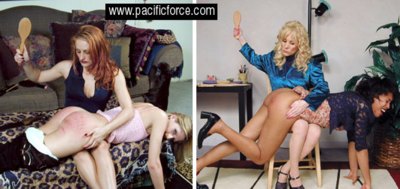 Back to Pacific Force Reviews Page
Back to Reviews Page
HOME


Support our Free Achive Spanking Site by joining one of the sites below.

Marked Butts - Spanking Online - Realspankings - Firm Hand Spanking - Girl Spanks Girl - Clare Fonda Pass - Punished Brats