CHELSEA PFEIFFER ENTERTAINMENT
Click here for Website
Photos used to compliment reviews are posted with the permission of Chelsea Pfieffer Entertainment and may not be posted to any other website without their permission
Space Girls

Starring: Chelsea Pfeiffer
Pixie
Ashley Fires
Directed by: Chelsea Pfeiffer
Reviewed by: Eric Blair-Brown, posted 3/4/06
Trailer available at www.cpentertainment.com
I don't believe in aliens from another planet, but after watching Space Girls, I pray a UFO crashes in my back yard. This ambitious, creative and fun production stars two of my favorite actors. The Production includes the best Top in the business, Chelsea Pfeiffer and my friend and talented bottom, Pixie. Throw in some special effects and the lovely Ashley Fires and you have a great DVD.
In this production, Pixie and Ashley are naughty little aliens, that come to earth for some fun and to experience a discipline spanking. Chelsea Pfeiffer stars as a secret agent from outer space. Her assignment is to capture bad little space girls, punish them and send them back home. The girls crash their ship in the hills. As Chelsea searches for her charges, the girls decide to have a little fun and give each other a playful spanking. When Pfeiffer catches up with the ladies, she bends them over and the "traditional" earth spanking. Both scenes are cute and the girls do a remarkable job speaking their special space language.
Chelsea takes the girls back to her headquarters. Before they go home, Ashley and Pixie still want to experience their first discipline spanking. The girls don't quite understand the meaning of the word discipline, so Chelsea decides to explain it to them. Pfeiffer uses her hand and a big old hairbrush to give the brats some very sore bottoms. The girls learn that a punishment spanking doesn't give them the "Zingle" (space term) they expected. The naughty travelers are sent on their way with a dented space craft and a new appreciation of the power of a discipline spanking.
The hardest part of making spanking videos is to come up with new interesting stories. Space Girls is ambitious, cute and well done. Chelsea Pfeiffer continues to crank out fun, exciting and unique projects. Team up the queen of spanking with a great kid like Pixie and cute little Ashley and you have an enjoyable DVD. I know there isn't a squadron of attractive space girls traveling the solar system looking for a good spanking to achieve a zingle. But after watching this production, you just might find yourself looking for unusual lights in the sky and searching for some naughty little aliens in need of some earthly discipline.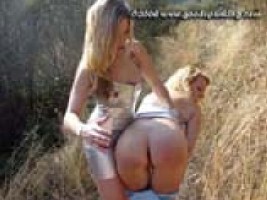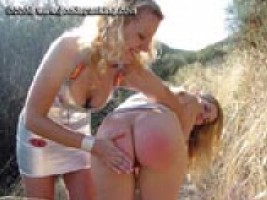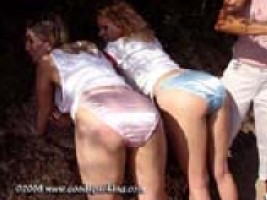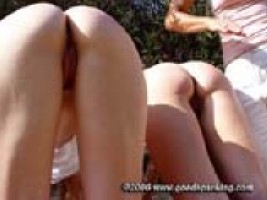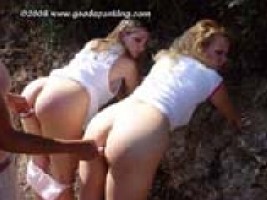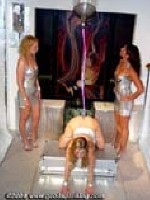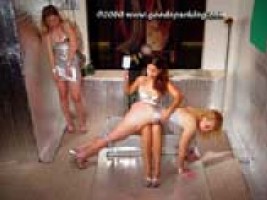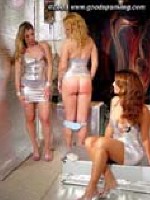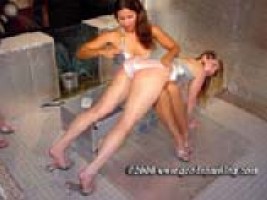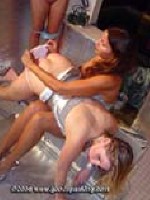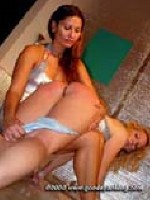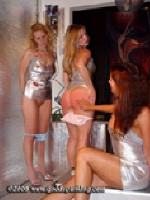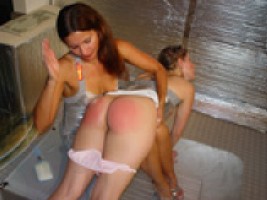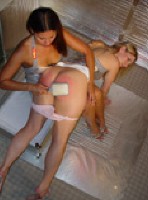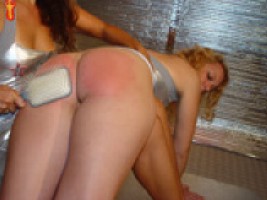 Back to Chelsea Phieffer's Review Page
Back to Reviews Page
HOME


Support our Free Achive Spanking Site by joining one of the sites below.

Marked Butts - Spanking Online - Realspankings - Firm Hand Spanking - Girl Spanks Girl - Clare Fonda Pass - Punished Brats