Spanking 101

Starring Clare Fonda, Traci Greer, Genesis, Danny Chrighton and Alex Best
Written and Directed by Eve Howard
Produced and Edited by Tony Elka
Running Time: 60 minutes
Guest Reviewer: Erica Scott
Shadow Lane's newest production, Spanking 101, has something for everyone. It's a creative, clever and ambitious video, offering a primer for various spanking techniques, positions, implements and etiquette. Newcomers to the scene will value the many helpful tips, but even the most experienced of spankers will enjoy the antics of the three beautiful, spankable women and the two handsome, toppy men.
Of the five performers in the ensemble, only two are Shadow Lane veterans: Clare Fonda, a spanking video favorite, and Traci Greer, fresh from her debut in SL's Tennis Bums from last year. Rounding out the women is Genesis, a curvy, dark-haired beauty. The men are Alex Best, a Brit with a classic stern demeanor (and what a voice-deep, deliberate and that yummy accent), and energetic Danny Chrighton, who is clearly destined to be a spanking star.
The first vignette, "How do you tell your husband/boyfriend you want to be spanked?" is perfectly illustrated by Danny and Traci, playing husband and wife. Traci, unable to speak of her secret desire, leaves hubby Danny a note describing her spanking fantasies underneath his sandwich and beer. (Somehow, he never gets around to eating the sandwich.) Surprised, but very much intrigued, Danny calls Traci to task for missing a joint appointment with their accountant, and decides to spank her then and there. However, the vignette is to be continued, because the video segues into more tips from Clare, and a demo with Alex and Genesis on various spanking positions. Genesis looks lovely in a rose-colored panty and camisole/garter belt set, and she has one of the best smirks I've ever seen. However, after all the positions have been demonstrated and Alex spanks her in earnest, she does lose the smirk.
Back to Clare, ready to give more tips, but by now, Danny is fed up with her interruptions and decides to spank her, telling she can give her hints while he's doing so. Clare is flustered, trying to keep her wits about her while the spanking is ensuing, and Danny enjoys himself thoroughly, ramping up the spanking and teasing her about how she's not coming up with anything now. (Oh, I soooo felt for Clare at this point: What's up with these tops, expecting us to think and speak clearly with swats raining down on our bottoms? Humpphh.) However, Clare rallies, and even through a long, vigorous spanking, she manages to inform us about proper spanking techniques (not too high or too low, alternating cheeks) and even how to give your spanker limits nicely. Her facial expressions are priceless, as is Danny's tongue-in-cheek sternness.
We then return to Danny and Traci, and once Danny's intentions are clear to her, Traci's face reflects a classic dichotomy, a combination of "Oh good, he's into it," and "Oh god, what have I gotten myself into?", which would most likely be a common reaction if a scene like this went down for real. He pulls her over, and wastes no time yanking down her padded bike shorts. The spanking and dialogue are lively, funny and well acted.
You can't have a video called Spanking 101 without tackling the question of "wood vs. leather," and here, Alex pairs with Clare and Danny with Genesis, and they demonstrate the differences between the two materials and how the ladies react to them. Considering they came into this vignette expecting cocktails, Clare and Genesis obviously get more than they bargained for.
The final vignette is a thorough caning demonstration, with Alex and Traci. Alex is an expert with the cane, and Traci has a high tolerance and takes her caning well, holding her position and bracing herself on the chair with well-cut arms. Alex not only executes the classic type of caning, but he also demonstrates the light, rapid tap-tap-tap method, which many people find to be quite sensual. (I do!)
With so many performers and several different scenes cutting in and out of each other, this DVD could have been muddled and confusing in the hands of a lesser editor. But Tony Elka made it all seamless and flowing. Eve Howard had her hands full, directing five people (with three SL newbies) and dressing three women, but as always, she chose the perfect outfits, shoes and lingerie, and made each woman shine.
Witty, informative, packed with spanking and sass (or, as Alex would say, being cheeky) and with plenty of eye candy for both male and female viewers-Spanking 101 really is a keeper!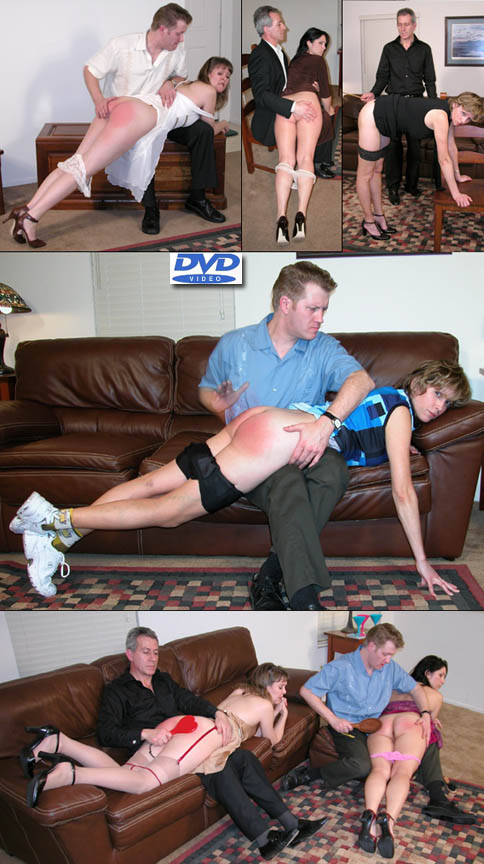 Back to Shadow Lane's Review Page
Back to Reviews Page
HOME


Support our Free Achive Spanking Site by joining one of the sites below.

Marked Butts - Spanking Online - Realspankings - Firm Hand Spanking - Girl Spanks Girl - Clare Fonda Pass - Punished Brats