SHADOW LANE

Click banner for Shadow Lane's Website
Photos used to compliment reviews are posted with the permission of Shadow Lane and may not be posted to any other website without their permission
SPANKING ANALYSIS

Written and Directed by: Eve Howard
Produced by: Tony Elka
Starring: Susan Mills as Miss Lansing
Lawrence Selden as The Doctor
Special Cameo Appearances by: Tony Elka as Dr. Droner
Arthur Sire as Dr. Curt Camphor
Butch Simms as Dr. Milo Karmic
Review by: David Pierson
" Spanking Analysis" is another success for the creative team that is Shadow Lane Studios. This video is special for so many reasons. On one level, " Spanking Analysis" can be enjoyed as the terrific erotic piece that it is. On a deeper level, it is a tale of self-acceptance and a biting satirical broadside at the psychotherapy industry. The most important thing to know about this production is that " Spanking Analysis" is intensely sexy and entertaining. In fact, I found this video so intensely erotic that this review was delayed much to the dismay of our publisher. Allow me to explain. When I prepare to write a review of a video production, it is my custom that I watch the work alone and take notes. There is a good reason for my habit of solitary viewing. (Not that! Get your mind out of the gutter.) For example, a few nights ago I was preparing to start my review process. I had my legal pad in hand and the DVD was loaded into my player. Suddenly, my wife (Dr. Dorothy Parker-Posey) called to me from upstairs. She didn't feel like being alone. I informed my beloved that I was in the process of reviewing the latest Shadow Lane release. She told me that I could review it from our bedroom. She just wanted me to hang around until she fell asleep. I concurred and put the DVD into the machine in our bedroom. As the video began to play I started taking notes. My wife also took a keen interest in the video as well. It was shortly after the part in the video in which Larry Selden lowers the panties of Susan Mills that I found my reviewing process totally disrupted. Darn the luck! The next thing I know it's an hour later and I had failed to take notes. Does this video work as a piece of erotica? Yep, sure does!
Beyond its efficacy as a sexual stimulant, " Spanking Analysis" is also a wonderful parody of the psychotherapy industry in this country. With wonderful aplomb, Ms. Howard and her cohorts poke fun at the fields of Addictions Counseling, Freudian Psychoanalysis and New Age mumbo jumbo. As a psychotherapist myself, I know of many in my field who should be poked, preferably with pointy sticks. I am always impressed with the intelligence and subtly of the plot lines used in all Shadow Lane productions. This is a story is an allegory of the trials and tribulations that those of us in the spanking community often experience before we can accept spanking as part of our sexual expression.
The protagonist of our tale is a young woman identified as Miss. Lansing, portrayed by the fetching Susan Mills. Miss Lansing is a young woman confused by her spanking fantasies. She is concerned that she is in some way abnormal. Miss Lansing seeks the advice of three bone headed psychotherapists. The first is an addictions specialist, played with great flair by Arthur Sire, who suggests that Miss. Lansing attend a 12 Step program to control her urge to explore her sexuality. On his desk was a sign that read " Say no to everything!" She next sought the help of a Freudian Psychoanalyst. Tony Elka perfectly captured the Úlitism that is so common among the practitioners of this dubious school of psychotherapy. Hey, Woody Allen was in Analysis for more then thirty years. Need I say more? Next, our protagonist sought the intervention of a holistic practitioner as portrayed with great comic skill by Butch Simms.
Dissatisfied with the questionable recommendation made by the three stooges of psychotherapy Miss Lansing sought the assistance of a practitioner identified only as " The Doctor". It seems that this therapist comes from the school of sexual healing. " The Doctor" is played by Lawrence Selden, the well known fetish photographer, videographer, graphic artist and husband to Chelsea Pfeiffer. Mr. Selden brought a great deal of intensity to this role. You could say that office of Dr. Lawrence Selden is a regular house of spanking mirth. ( see Edith Wharton) When Miss Lansing described her "problem" to the good doctor she received acceptance rather that discouragement. She was shocked when the doctor suggested that he spank her as part of the therapeutic process. Soon the lovely Miss Lansing found herself over " The Doctor's" lap. Before long, Miss Lansing was being spanked on her bare bottom by this practitioner of therapeutic spankology.
It was during their second session that "The Doctor" gave a whole new meaning to the concept of anal retentiveness. Miss Lansing was instructed to pick up some sexual toys at the local adult toy store prior to the session. Unfortunately, she was too embarrassed to do so. Her failure to comply garnered her an intense discipline style spanking. Once again, Miss Lansing found herself bent over her therapist's lap. Now, this "Doctor" was nothing if resourceful. Like a good scout, he came prepared. He had on hand all of the sexual toys that he had instructed Miss Lansing to bring to the session. The doctor noted that he had only asked Miss Lansing to venture into the adult toy store as part of the theraputic process. Miss Lansing's eyes opened wide as "The Doctor" placed the sexual toys out in front of her. There were butt plugs, anal beads, paddles and straps. Soon the good doctor had inserted a butt plug into his patient's anus. I'd love to see this doctor's release form. With butt plug firmly in place, the doctor then resumed spanking Miss Lansing. In a few minutes the butt plug was removed and a vibrator was inserted into Miss Lansing's anal opening. A second vibrator was then eased into her very moist pussy. Very soon our Miss Lansing experienced an intense orgasm. Upon completion of this session, the doctor inquired about Miss Lansing's emotional state. She replied " All I needed was the right doctor and the right spanking bulletin board."
" Spanking Analysis" is a terrific erotic spanking experience. The story is both smart and very entertaining. I think that every spanking production house has done some version of a spanking therapy scenario. In some ways that is very understandable. Therapy and spanking are both forms of power exchange. However once again Eve Howard has taken a well-worn idea and made it new. As with all Shadow Lane Productions, the production values were of the highest quality. Tony Elka deserves special mention for his skill as an editor. I really believe that he is the best in the business. The cast also deserves much credit for the success of the video. Both Mr. Selden and Ms. Mills threw themselves into their roles and their erotic chemistry was palpable.
Shadow Lane is having a splendid 2002.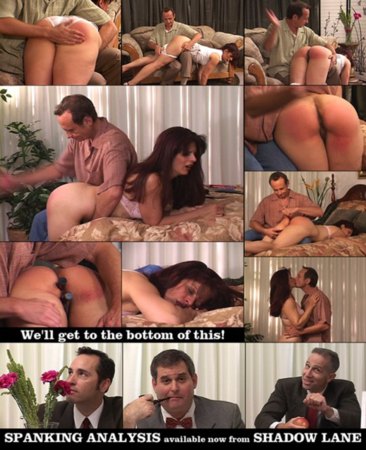 Back to Shadow Lane's Review Page
Back to Reviews Page
HOME


Support our Free Achive Spanking Site by joining one of the sites below.

Marked Butts - Spanking Online - Realspankings - Firm Hand Spanking - Girl Spanks Girl - Clare Fonda Pass - Punished Brats