These two half-hour Australian videos feature moderate domestic discipline (with some intense moments), two absolutely top-shelf girls, and some of the best face shots I have ever seen. The video quality is not up to current standards but is acceptable.

Part 1: Natasha Never Learns
Starring Natasha and Maryanne (real life mother and daughter)
Produced by Rick Masters, Jack Handler and Chi Chi Bataille
Written and Directed by Rick Masters
Running Time 30 minutes

As the movie opens we see some lovely upskirt views of Natasha, a very cute blonde teenager, as she plays on a backyard play-set. She's really too old for this but I don't mind watching. When she returns home, her mother Maryanne spanks her for being late and not taking her shoes off. Both Natasha and Maryanne are Russian and Natasha has an interesting Australian-Russian accent. This first spanking lacks variety until the camera shifts to a view of Natasha's beautiful suffering face. The combination of this and her sexy voice saying "Ow" is quite erotic. And watching her feet in white socks kick up and down adds to the effect. After her mother begins to spank harder, the anguish on her face increases. The prolonged face shot in this spanking is one of the best such sequences I have seen in any spanking video.

Next we find the young Russian beauty watching a loud rock and roll band on TV in her short baby-doll negligee. The camera moves around to show her panties and long slim thighs as she kicks her legs to the music. The sexy effect is quite similar to the upskirt views at the start of the video. (Frankly, I wish spanking videos had more of this kind of thing and not focus so much on just the punishments). Her Mom is not a rock and roll fan and turns the TV off. Natasha turns it back on. Her Mom notices and returns with a wooden paddle which is soon put to good use.

Maryanne pulls Natasha over her lap on the couch and pulls up her white negligee revealing more of her delicious figure. From the start Natasha's cries and frantic leg kicks show the paddle hurts more than her Mom's hand. The camera moves around to show all angles on this wonderful scene. Several times Natasha tries to get up and each time Maryanne pushes her back down. After a while Maryanne pulls the teens panties down saying "This will keep you in line".

When the paddling ends, Natasha runs to her room and lifts up her negligee to see how red her ass is. She twirls nicely around and we see a silhouette of her wonderful breasts under the thin fabric. Finally the crying teen grabs her stuffed animal and throws herself sobbing on the bed. This is like the cherry on top of the ice cream sundae!

If the video ended here it would already be one of my favorites. Instead it goes on. It is now Sunday and Maryanne says Natasha's teacher has told her about Natasha's poor performance and lack of attention. Natasha sits on her Mom's bed looking contritely down. Natasha removes her skirt revealing a sexy pair of pink panties and her Mom spanks her with slipper. The image of the slipper lashing into the inviting pink target is quite sensual. Although this spanking goes on too long, it is rescued by an excellent face shot. Finally her Mom switches to the strap to finish.

The sensational girl, some interesting between and after spanking sequences and generally good camera work more than make up for the slightly fuzzy video quality. I give this first half of the tape a 9 out of 10.

Part 2: Victoria Says Uncle
Starring Lisa Page and Edward Geese
Produced by Richard Masters and Leo Philips
Written and Directed by Richard Masters
Running Time 30 minutes

As the video opens, we see Victoria, a cute brunette schoolgirl with a tomboyish look, wandering around town. She is dressed like an English schoolgirl. She enters the house and her dad asks angrily "where have you been, young lady". Her dad is fairly young and quite masculine looking. She removes her English straw hat and for the first time we see what a beautiful face she has. She says she was "out with the girls" with a sly smile and he says "lies"; he's found out she had a detention for talking in class again.

Victoria is more animated and sassy than Natasha. Something about her just makes you want to see her spanked. His father obliges by putting her over his knee. Soon her skirt is pulled up revealing tight white panties and a delicious ass. He spanks her over her panties, something I would like to see more of in spanking videos. (Many current productions have the girls quickly remove their panties or pull them up thong-style; I rather enjoy seeing the girl's ass framed in a pair of tight panties.)

As the spanking gets harder her cries become more intense. We see a nice view of her pantied ass jerking and moving around as the spanking proceeds. Dad also spanks the tops of her thighs causing shrill "Ows" and kicking up of her feet. He pulls her panties down and threatens to get the shoe. Now we see a long very erotic face shot of this beautiful teen's anguish. Another highlight of this spanking is she constantly tries to get off his lap and he constantly and very effectively stops her so she cannot escape the full brunt of his anger.

He sends her to her room warning that he's not finished with her yet She enters the room sobbing and holding her hands over her reddened ass. He enters and says its time for the spanking stick and the strap. Although he does not paddle her very hard with the spanking stick, she feels it intensely. The script is not as interesting as the first half video; however, the wonderful face shots and her frantic struggles more than make up for it. Also the video quality is better than in the first half.

He tells her to go to bed; when he discovers that she disobeys, he paddles her briefly with the handle of a feather duster; then he switches to a short strap. Victoria now begins to sob. He pulls her panties down revealing her reddened ass and continues to take aim at both this and her sensitive thighs.

In the next scene, Victoria is outside watering the plants. Her Dad comes outside to ask her to water a different flower bed and she impishly turns the hose on him! Naturally he is furious and drags her inside for what I hope is more punishment. He can't resist delivering a few spanks on the way in despite her claim that it was an "accident". He drags her over a kitchen chair. Again we see her tight panties, beautiful ass and frantic (and futile) struggles to get free. One thing, unfortunately, we don't get to see in either video on this tape are the girls removing their tops; this is a shame as both teens appear to be well endowed in this area.

She finally manages to stand up and refuses to go over his knee again. He throws her down and switches to a ping pong paddle. (I think this video sets the record on the number of different household items used for spanking). Victoria finally says she is sorry. A series of beautiful face shots and erotic cries follows.

In the final sequence, Dad gets a phone call about Victoria sticking her tongue out at people in the park. We next see a nice view of Victoria in a short skirt lying on the floor watching TV as her dad comes in. He drags her by her ear into the bedroom. After a spanking, he says "I have a little surprise for you". He picks up a thin whippy cane and gives her a long overdue (but not very hard) caning.

The many and varied punishments of a spirited, sassy and quite beautiful tomboy makes this video stand out; a more imaginative plot would have improved it even further. Overall I think Part 2 deserves a 9 out of 10.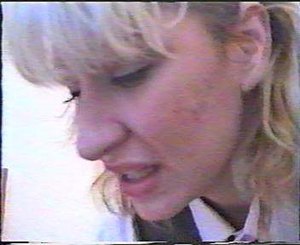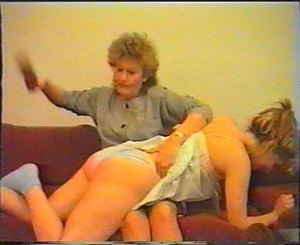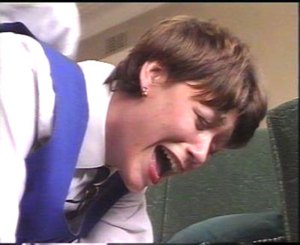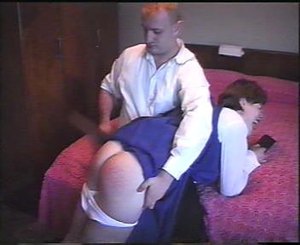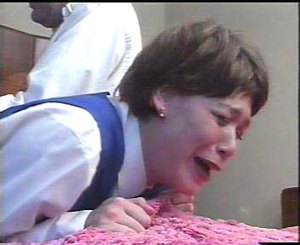 Back to MoonGlow Reviews Page
Back to Reviews Page
HOME


Support our Free Achive Spanking Site by joining one of the sites below.

Marked Butts - Spanking Online - Realspankings - Firm Hand Spanking - Girl Spanks Girl - Clare Fonda Pass - Punished Brats