Who's Affraid of the Spanking Neighbors?

Written and Directed by: Eve Howard
Edited by: Tony Elka
Produced by: Tony Elka
Starring: Katrina Rosebud
Butch Simms
Ralph Marvell
Rubee Tuesday as Rita
Review by: Dorothy Parker-Posey
Please be advised that watching this video may cause extreme sexual excitement. If you have a medical condition that makes intense sexual stimulation unsafe, you must not... oh the hell with that! I was going to say that you must not watch this video because it will kill you. Yes it is true, that if you are medically frail, your death is virtually assured should you view this video. However, you only live once and you will die with a smile on your face. (Also, if you are a man they may need to adjust the shape of your coffin. This will certainly be a source of pride for your family and friends.)
This video caught me off guard. In some ways 'Who's Afraid of Spanking Neighbors' reminds me of that old joke: "I went to a hockey game and a boxing match broke out". There I was, expecting to watch a nice spanking video and then, suddenly, all sort of sexual activities erupted. Eve Howard has such a deliciously dirty mind. I do so enjoy surprises.
For fans of videos that incorporates a lot of sex with your spankings, this video is for you. 'Who's Afraid of Spanking Neighbors' is a well-made production. It is entraining, the production values are suburb and this video is a complete turn on. Just thinking of this video makes me completely wet.
This production is actually shot from the separate perspectives of two couples. In the first segment, Ralph (Mister) Marvell and Rubee Tuesday give a wonderful performance as a married couple in conflict. After a dinner party with the couple next door ( Katrina Rosebud and Butch Simms) Ralph must deal with his jealous and intoxicated wife, Rita. ( Rubee Tueday) Rubee's performance was absolutely fantastic. (It should be noted that Ms. Tuesday is a recovering drug addict and alcoholic. For Rubee's story you can read the interview that she did with my husband last year. I thought that it was quite powerful.) After saying goodnight to the dinner guests, Ralph had to deal with his drunken and surly spouse. " Why didn't you just kiss her ass? I know that you wanted to!" Rita hissed at her handsome husband. Ralph attempted calm his intoxicated wife. When talk proved ineffective, Ralph decided that Rita needed a sound spanking. (This really wouldn't have been much of a spanking video if Rita had listened to reason, now would it?) Ralph took his naughty, sexy wife across his large virile lap and spanked her hard. Eventually, Ralph lowered Rita's Victoria's Secrets (her undies) and spanked her bare bottom. I must admit that this spanking turned me on. Rubee has such a lovely bottom and Mr. Marvell is so tall, dark and handsome. At this point I was ready to fire up my atomic powered 12-speed vibrator when something happened that was quite unexpected. No, my vibrator was in working order, thank you. Well, it seems that I wasn't the only one turned on by the sight of Rita's beautiful, naked bottom dancing to the beat of Ralph's large hands. Mr. Marvell himself was clearly aroused. With Rita in spanking position Ralph started to pleasure his wife with his large fingers. Rita groaned as Ralph plunged his large digits deep into her wet pussy. (You do know what they say about men with large digits?) Before this story is done Ralph punished and pleasured his wife in so many ways with his large and dexterous hands. Clitoral stimulation and digital anal penetration made Rita groan in sexual ecstasy. (Gee, I hope that it was Rita.) I nearly passed out when Ralph applied a multiple speed vibrator to Rita's clitoris. This scene is so hot that your DVD player may explode. Well something exploded, I thought that it was my DVD player.
At the conclusion of this portion of the video Rita and Ralph are once again a satisfied married couple. (In more ways than one, let me tell you.) So now it's time to say goodbye to Rubee Tuesday (sorry) and Ralph ( Mister) Marvell and say hello to Katrina and Butch.
In the context of our little tale, Butch lives next door to Ralph and Rita. He and his date had just gotten in to his apartment after their evening with the couple next door. What an attractive couple Butch and Katrina are. I've always found Butch Simms to be a very attractive man. He is well muscled and exudes male sexuality (That's my subtle attempt to say that he has a large, delicious cock. Don't tell anyone. That's just between us.) In Miss Rosebud the creative team at Shadow Lane have discovered at star. Katrina is so sexy. Beautiful auburn hair, that cute lisp when she talks and..oh yes, there is that killer body.
After their evening with Rita and Ralph, Miss Rosebud and Butch are about to "get it on". " So where is that sex bench that I've heard so much about?", Katrina asked scant seconds after entering Butch's apartment. (I do so love subtlety.) Butch immediate went to fetch the "sex bench". He had to be very careful and avoid tripping over his tongue. While Butch was off on his task, Katrina heard some commotion from Ralph and Rita's apartment. She inquired of Butch what was going on next door. He noted that Ralph was just spanking Rita. " Ooh, I wish that I could watch", Katrina cooed. " So you are into spanking", Butch replied with a very large grin. " What Girl raised in Hollywood isn't?", the beautiful brunette replied. Soon Katina was bent over the sex bench and Butch began to spank her lovely bottom. This spanking aroused Katrina. As the spanking progressed, Katrina removed her clothing in an incremental fashion. After she was completely naked, Miss Rosebud turned to Butch and said " You are wearing too many clothes". What ensued is one of the most beautiful and hot lovemaking scenes ever filmed. This starts with Katrina taking Butch's large cock into her mouth and progresses into an intense lovemaking scene. The lovemaking is at once hot, explicit and lovely to watch. In the interest of journalistic excellence I had to watch this scene multiple times. I watched it right until my batteries died.
What a fantastically sexy video. This is a great couples video. If you watch 'Who's Afraid of Spanking Neighbors' with your lover you will have the most amazing time while you exchange body fluids.
If you plan on watching this film alone then you may need to do some preparation. For the ladies, have your vibrator nearby. You will need it. It would also help to soundproof the room. When you come, you will do so loudly. As for you guy, well you know what to do. (just clean up afterwards)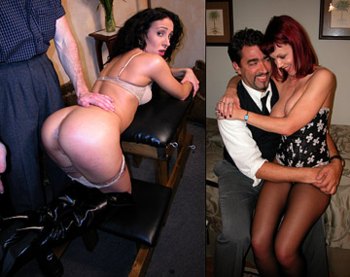 Back to Shadow Lane's Review Page
Back to Reviews Page
HOME


Support our Free Achive Spanking Site by joining one of the sites below.

Marked Butts - Spanking Online - Realspankings - Firm Hand Spanking - Girl Spanks Girl - Clare Fonda Pass - Punished Brats