Patty's take:
We both agree that this is a good little video. We had some fun watching it, and having read some of the scuttlebutt about the behind the scenes story, I found it particularly fun to watch the actual video. Erica Scott is a known and very incorrigible real life spankophil with a reputation for having a bionic butt, this is her third Shadowlane video, and it definitely measures up to the first two. Fred's not quite sure what her best feature is, her cute bionic butt, or her acerbic wit. For me the draw was Mr. Fuller. Erica's butt is cute and all, definitely healthy and attractive, especially when it's good and red, but Steve's goatee and expressive studied stern demeanor was much more attractive for me. It probably won't be obvious to the watcher that the apartment where the video was filmed had only a window unit AC, and the video was filmed on a 90 plus degree day in August. They had to stop taping a few times to blow dry Steve's shirt, re-hydrate and cool off. But their final concession to that was a bonus for me, and all you other gals who like virile man. They decided Professor Woodward should spank bare chested in the last scene. Yummy.
Another tidbit from behind the scenes that wouldn't be obvious to you watching is that this was Raven's first spanking video, and the young lady was taken a bit by surprise by Professor Woodward's prowess as a spanker. Knowing that her reaction to the first spanks is "real life" surprise and that Charlotte's exclamation is genuine Raven surprise, adds more than a little to the smile value of the scene. Don't worry, the poor girl isn't brutalized or anything, but it's pretty clear that the Professor spanks a little harder than coy little Charlotte bargained for.
It was hilarious watching Fred watch the first scene where the naughty co-ed gets her spanking. Charlotte, played by Raven has a crush on Professor Fuller, and in a student teacher conference she has no luck seducing him. Her comment that the professor was "only a year or two from Viagra," made Fred chuckle. Then when she said, "Don't tell me you're already past the age of getting it up?" Fred growled, "That would get you caned." My answer of course was "Hey! I didn't say it! That was Eve Howard's dialogue not mine!" So he smacked me, rewound the tape and watched that part again. MEN!
Poor Eve though. If Fred ever meets her, and he may at the next Shadowlane party, he's going to bring up her penchant for bratty dialogue. Gee whiz! It's not like I steal it or anything. I'd never say "Professor pompous jackass," or "you're such a Neanderthal" while I was being spanked. That's just not sane.
After the professor has a run in with his student, he takes it up with his wife. The bratty student has reminded him that his pretty wife's dilettante ways are a sore spot with him. Well heck! The woman shops all day when she's not in the gym with at least four personal trainers, all male, and she hasn't kept any of her promises to look for a job since they've been married.
I got a couple of smacks pointing out that the Professor might be the one who ought to be spanked for letting his frustrations go that long. Well! Sheesh! It's true though.
Well, bratty well "trained" Tracy gets a long OTK hand spanking first over her skirt, then over black lace panties, and then on the bare. After that she's allowed to recover. This is when The Professor takes off his shirt.
Poor Tracy's reprieve is short lived though. She ends up on spanking furniture, evidence that our professor really does study spanking. She gets paddled, strapped with what looks like a six tailed tawse, a leather belt she gave her hubby as a gift, paddled again with a long reinforced leather paddle, and then finished off with another quite long hand spanking. Ouchie! The Professor has definitely studied the art of hand spanking. And poor Tracy's mouth gets her in deeper. The finally spanking is a whopper. Hard, with a cuffing technique that just looks very ouchie. The question, "aren't you ever going to stop," sounds heartfelt and earnest, but man o man, it is no where near done. It even gets harder after that.
There are several places where the action is broken by really fun ad libs that interrupt the flow and make Steve Fuller smile just enough that you know there's a real guy doing the spanking. Both Erica and Steve are real life friends, and spankos, and it was cool to see small breaks in their character portrayals that showed the real people.
Fred's take:

This is a nice story, where two deserving young ladies get spankings. Both write serious mouthy checks, and neither seems particularly willing to have their butts cash them. The first spanking should have been harder, but the brat getting it was none to happy about the experience, so I expect she got what she had coming.
The wife, played by a young lady who needs a good spanking in her real life as well as her video life gets herself well and properly spanked. Asks for it all the way through too. Damn if even a video brat can't guess that her mouth will get her in deeper, or maybe that should be hot damn. LMAO. The wife gets herself two good long spankings, which is a good thing. Black lace panties, healthy athletic butt, and other parts that every healthy spanking man appreciates seeing when he's got a woman over his knee are all there for you.
Having my lovely wife watch the tape along with me is a plus. Some post viewing activity was required on this end, if you get my drift. Doesn't take much to get my little vixen ready to play though, so you should all sample the tape yourselves to confirm the effect. Doubt you'll regret the purchase.
Wrap up:
We'll rank this one on three scales.
· Production quality,
· Spanking severity and
· Acting and dialogue.

Production quality gets an 8. The video quality is great, but the set is kind of ugly. But then, who looks at that right!? LOL. When it comes to the script, dialogue and performances, we both agree this one is up among the top of the thirty plus spanking video/dvd's we've seen in the past eighteen months. We give it a solid 9 out of 10. There's lots of dialogue, and although there are one or two places where it seems just a little stilted, for the most part it's funny and doesn't detract from the spanking value at all the way it can in some videos. There are a few places where it is evident that the actors have departed from the script, and even a few places where it seems they have surprised each other with ad libs, that instead of breaking characters just add dimension to them.
Spanking severity, we'll give a 7. This tape isn't about severe spanking. Charlotte's spanking is mild to moderate, and Tracy's is a hard moderate, especially the ending. I wouldn't like to be punished for real with a spanking like the last one the Professor gives Tracy.
Over all we give the tape a solid eight to eight and a half on enjoyment and fun. This one is definitely worth the price of admission, if you're looking for a spanking video with some fun, and good old fashioned, plain old spanking.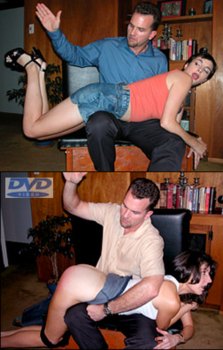 Back to Shadow Lane's Review Page
Back to Reviews Page
HOME


Support our Free Achive Spanking Site by joining one of the sites below.

Marked Butts - Spanking Online - Realspankings - Firm Hand Spanking - Girl Spanks Girl - Clare Fonda Pass - Punished Brats