Stalin 2

Lupus Pictures (2005)
Year: 2005
Directed by Zbysek Podhajsky
Story by Pavel Stastny and Thomas Marco
Starring
Prisoners: Katerina Tetova, Niki Flynn, Jana Mysckova, Alexandra Wolf
Daughter: Ester Slaba
Secret Police: Jiri Stastny, Maximilian Schubert, Jan Zatovsky, Tomas Gumsa
Czech with English Subtitles
Running Time 65 minutes (including extras)

Second Reivew by MARS posted 10/29/10
Other reviews to read; Lupus/Rigid East taking the time and energy to put together a decent story, real varied scenes and an actual tempo to the plot line. Two highlights--the actress Nikki Flynn in by far our favorite role for her we've seen, and RGE's Alexandra Wolfe on the wrong end of the cane this time.

In a black-and-white filming, a young pigtailed brunette schoolgirl is arrested and taken by state car (neat vintage model), handcuffed between two secret-police types, to a secluded country estate. The girl is checked in by a matron in police uniform, face-slapped, ordered to strip and drop her clothes in a basket to be taken away from her, given a rubber-glove rectal check (which we don't see), photographed nude line-up style, then thrown naked into a drak cell. Great start, every detail more tense than the last.

The girl is interrogated in her prison clothes, then taken to a basement for some serious questioning. She is fastened naked on her back, pulled into the diaper position, on a board extending down from the wall, her arms and legs individually chained to hooks on the wall above her. It is hard to imagine a more vulnerable posture. Lupus' Pavel Stastny plays the inquisitor, sets a vintage alarm clock as his timer, and goes to work on her bottom with his cane. The stressed position opens the upper thighs and gluteal fold, sensitive stuff for even the most experienced. The girl screams and rocks her bindings. Severe indeed.

Male suspects are also brought in by the limo to the remote mansion. One is shot and left along the road.

The actress Nikki Flynn is processed in. Her strippng nude and photographing are high points in all her work for us. She is taken to the basement and caned on the board by Pavel, who wears a rubber apron for the task. Very erotic screaming.

Alexandra Wolfe, the girls' teacher, finds herself at the mansion, questioned with the bright light in her face, not cooperative, and then seen naked in the basement, tied face down on the board for Pavel's cane. a sexy high bottom, her red hair flails from side to side. For once in a CP fim, dirty bare feet seem quite appropriate in this dungeon setting.

Incongruously, a schoolgirl enters the caning scene and delivers a lunch pail to Pavel, amused to see her naked teacher being attended to by her father. Even the lunch pail is a vintage piece of history. The teacher's bottom is all in a day's work for Pavel. (How was your day, Daddy?)

All the girls are being questioned--we see a series of brief torture sessions--anal checks, canings, board whippings, hogtied girls in cold cells, girls straddling and inverted "V" horse, breast whipping, great moments of Nikki getting the bastinado, pussy whipping. One by one the girls are seen to capitulate and sign confessions.

Nikki seems to get the worst of it; she does naked PT; stands naked on a block, shivering, hooded and in a straitjacket; and is chained to the wall for a form of dripping water torture. When she strands naked in front of the assembled police and is threatened with a pistol, even she caves and signs a confession.
First Review by Ronald Scott posted 2/7/10
Stalin 2 is a fine sequel to Lupus's excellent 2003 release Stalin. It features Katerina Tetova, the star of Stalin, as well as the wonderful Niki Flynn and several other Lupus beauties. It covers a dark period in the history of Czechoslovakia and has a darker tone than most Lupus features. The last third of the movie particularly stands out and makes this one of the top spanking releases of the year.
The film opens with some historical footage of the Stalin regime. Next we see Katerina, the unlucky culprit of the first Stalin film, being interrogated at Secret Police Headquarters. The interrogator says "like father, like daughter" and she is ordered to strip. That she weeps as she unwillingly removes her clothes adds to the delicious effect.
She is interrogated by a gentle and handsome young man (new to Lupus) but he can get no confession out of her. Soon another girl from the same town, Niki Flynn, is brought in. She is forced to strip in an erotic scene and is quite tense about her new predicament. Another excellent scene of her being struck by a cruel female guard follows. Niki protests "you can't treat me like this".
Next the girl's teacher, Alexandra Wolf (previously a dom in Lupus films) is brought in, interrogated, and caned across her belly in a good scene. Alexandra proves to have a sexy figure under the clothes she always wears in previous Lupus features. At first she claims to have "heard nothing" about the two girls. Then as the caning continues she says "It was my fault, I did it"
Then, in a nice scene, the punisher's daughter, played by the red-haired Ester Slaba, arrives with lunch and taunts the bound sobbing teacher who she calls Comrade Teacher. Finally a fourth redhaired girl, Jana Mysckova, is brought in, a relative newcomer to Lupus. She is mistreated by a guard in a too short sexy scene
She is then beaten with her legs apart in a "diaper" position (as were most of the previous girls); I do not care for this position which is used frequently in the first 2/3 of this movie; other viewers may differ on this. I also feel there are too many scenes of the men (secret service agents) meeting to discuss further action against the prisoners; this diluted the film's erotic impact for this viewer.
Then, out of nowhere, the part of the movie I admire so much begins. The agents decide to extract written confessions from each of the 4 girls. A series of whippings and canings combined with bondage in a dungeon setting is used to get the girls to confess. The scenes are a bit short (no 50 cane strokes here) but are extremely erotic. The variety of positions, the places the girls are whipped, and the forms of punishment exceed any previous Lupus production.
First Katerina is hogtied for a long period and we get to see her struggles and moans of anguish. Next the new redhead is positioned over a sharp "triangle" board with her hands tied to her ankles and her weight on her pussy and caned in another erotic scene.
Next Niki is put on the "triangle" with her arms crossed in front and her hands behind her neck and beaten across her back. Then the redhead is again placed on the triangle with her hands tied over her head and whipped across her breasts with a tawse in a very sexy scene. She then finally signs a confession. Another punishment scene with Katerina follows but the lighting is a bit dark to fully appreciate the action.
Then Niki has one hand tied above her and is whipped across her back in a very erotic scene. The redhead is caned over a bar and finally signs a confession. Then Niki is tied to a downward tilting board and subjected to the "bastinado" and caned across the soles of her feet. Because her hands are tied above her we get a good view of her anguished face and beautiful body in this scene.
Then Katrina is lashed across the insides of her thighs while she screams in anguish. This causes her to finally sign a confession leaving Niki as the only prisoner who has not signed. She is spread-eagled on her back and whipped across her belly but the brave obstinate girl will still not sign.
The agents meet and decide to make her "whole body hurt". The cruel female guard then forces the naked Niki to do squats very quickly and the poor girl repeatedly breaks down in another sexy scene. Then Niki is subjected to the "Chinese water torture"; she is bound tightly to a wall with a tight metal ring around her neck and water is dripped across her hair and face. There are great face close-ups of poor Niki's suffering.
The naked shivering girl is then brought into a room to face all the agents. She still will not sign but then one agent puts a pistol to her head and threatens to kill her. Finally she relents and signs the confession. A nice scene of Niki naked having her mug shot taken follows.
A radio announcement is then heard that the four innocent girls "now shiver in fear of the just vengeance of the people." The rest of the film covers what happens to the girls and the agents during the rest of their lives. The most interesting one is the new redhead, during interrogation, discovered her sexual orientation and later started a S/M video company!!
I give this video a rating of 9.75 out of 10 because of the four beautiful women portraying the leads, the all-around good acting, and the very erotic last third of the movie in which Lupus breaks new ground in the variety and cruelty of the punishments. I hope Lupus continues in this direction and the posted "coming soon" photos from their February 2006 release The Deep Impact indicates that my wish is going to be granted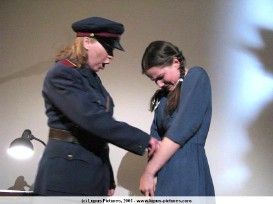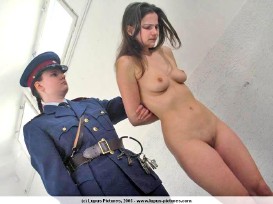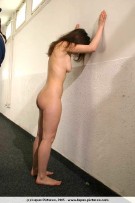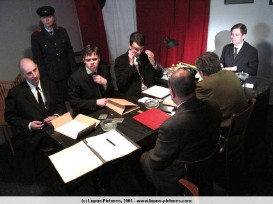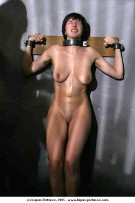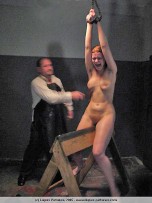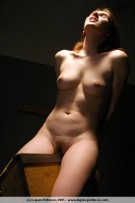 Back to Rigid East/Lupus Reviews Page
Back to Reviews Page
HOME


Support our Free Achive Spanking Site by joining one of the sites below.

Marked Butts - Spanking Online - Realspankings - Firm Hand Spanking - Girl Spanks Girl - Clare Fonda Pass - Punished Brats