SHADOW LANE

Click banner for Shadow Lane's Website
Photos used to compliment reviews are posted with the permission of Shadow Lane and may not be posted to any other website without their permission
Stand Corrected

Directed by Eve Howard
Written by Erica Scott & Devil O' Neil
Starring Erica Scott
Devil O'Neil
Review by David Pierson
Is there a more glamorous woman than Erica Scott in the land of spanking video erotica? I think not. Beautiful, witty and charming are only a few of the adjectives one could use to describe this highly talented woman.
In 'Stand Corrected: The Video', Ms. Scott has found her perfect foil in the form of noted fetish author, Devlin O' Neil.
In this superb production, Devlin had procured the services of Erica Scott to edit his latest opus. Erica proved to be a most uncooperative partner in the creative process of writing spanking erotica. She accuses Mr. O'Neil of writing pornography. Yes it's the old "erotica vs. porn" argument. After discussing their "creative differences" Erica tells Devlin to find another editor and drops his manuscript into the waste basket. Enraged, the writer takes Erica over his lap for some much needed correction. He spanks the lovely Erica by hand. The punishment was initiated over her dress, then panties, and was punctuated by a bare bottom spanking. A strap was used for good measure to convince Erica to do the job for which she was hired.
Despite the fact that Erica had agreed to do the bidding of Mr. O'Neil, the mischievous copy editor had other tricks up her sleeve. In the process of editing, Erica turned Devlin's book from a serious work of spanking erotica (Is that possible?) into a satire. When the book was released in that fashion by the publisher no one was more surprised than the author himself.
A furious Devil O'Neil confronts the naughty copy editor and proceeds to give Erica a lesson in serious spanking erotica.
'Stand Corrected: The Video (not to be confused with the publication) is highly entertaining and incredibly sexy. The screenplay by Ms. Scott and Mr. Devin is clearly homage to the screw ball comedies of the thirties and forties. One could almost envision Spenser Tracy and Kathern Hepburn in the title roles. For fans of spanking erotica 'Stand Corrected: The Video' is not to be missed. Hey, it's worth the price just to see Erica's legs.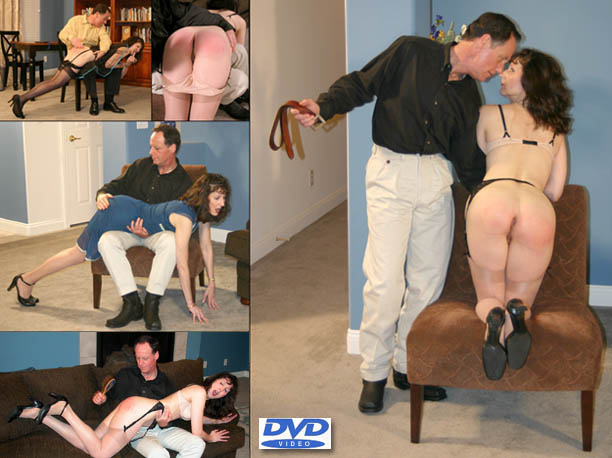 Back to Shadow Lane's Review Page
Back to Reviews Page
HOME


Support our Free Achive Spanking Site by joining one of the sites below.

Marked Butts - Spanking Online - Realspankings - Firm Hand Spanking - Girl Spanks Girl - Clare Fonda Pass - Punished Brats