MOOD PICTURES
Photos used to compliment reviews are posted with the permission of Mood Pictures and may not be posted to any other website without their permission
STANFORD EXPERIMENT

Mood Pictures (2005)
Produced by Pedro and Pablo
Written and Directed by Pedro
Starring
Pedro as the Professor
Mary Runner, Gina Doll, Patsy Passion, Prisoners
Brenda Brown, Amanda Pie, Brenda Black, Prisoners
Angie Vicious, Wanda Moore, Kisera, Linda Haart, Guards
Hungarian with English Subtitles
Running Time 60 minutes
Guest Review by Ronald Scott
Stanford Prison Experiment is an excellent release from Mood Pictures about a mind-bending master-slave experiment done at Stanford University in 1971. Featuring several cute young actresses and a really excellent dom, the head Guard, Angie Vicious, this release features some severe (and unusual) punishments in the Mood style.
At the start, we see a Professor addressing a classroom of pretty young women about a two week "experiment" to see the personality changes that occur when a group of "equals" is divided into dominants and submissives. Those young women who agree to participate in the unusual psychological experiment receive a payment of 5,000 Euros each, but only if they stay to the end.
The girls draw straws and the short straws become the guards and the long straws become the prisoners in the experiment. Shortly after putting on their uniforms the guards say they feel "different" in their uniforms. And there is shortly some antagonism between the guards and the inmates who were previously friends.
In the next scene the girls are told to strip and put their hands behind their necks to be "sterilized" with a fire extinguisher-like spray container. As several of the inmates are very cute their disrobing is a sexy scene.
Next the guards get together to talk. They decide that if they don't "maintain order" they will loose authority and perhaps not even get paid. Soon an opportunity to "maintain order" comes up with a rebellious new inmate. A cute brunette is stripped and tied with her hands apart facing a dorm bed. She receives a long strapping by a guard who enjoys her work! During the punishment the girls exchange some "catty" talk. The brunette tells the guard": "I bet you like it" as some erotic side views of her nice figure fill the screen.
At the end another girl comes over and consoles the beaten inmate saying "I'm sorry; it's OK". Then the guards meet again. They say to each other "We can do it to them whenever we want. It feels so fucking good!". Another guard says "I want to try it too". Like kids in a candy store.
The guard who wanted to "try it too" then has two inmates do 50 push-ups for no reason. A blonde who does not perform well is then given 50 lashes with the strap in return. She cries and there are some good face shots of her suffering. Next another fetching brunette attacks the guard and two other guards grab her and shout "How dare you!". There is a too-brief but sexy scene as they bend her body around. Then they handcuff her to the bed. They remind her she can leave and loose the 5,000 Euros or take the punishment. She replies she needs the money or "would walk the street."
What follows is an erotic scene as she is caned hard by the angry guard. The inmate has a beautiful and expressive face and cannot stand the cane blows. She keeps saying "Ouch, don't" and the bonds are somewhat loose so we can watch her writhing. Then the guard taunts her "Does that hurt ?".
Next the guards meet again. One guard suspects her girlfriend, who is an inmate, is having a lesbian affair with the first punished girl. They agree to get the inmate to admit it. They drag her in and she says "I was just trying to comfort her". As she won't confess, they strip her and attach an electric shocker to her pussy lips. She begins to look frightened. The guard, who is her suspicious girlfriend in real life, slowly increases the electric shock in what becomes an erotic scene (though not for the faint hearted). As she will not confess, they give up.
Next one inmate encourages the others to give up and leave. The girls are lined up and the instigator is dragged off for a severe 100+ stroke caning. This scene is at its best during the frequent side views of her great figure. And later as her suffering becomes quite apparent one of the guards says "what is it like, you had a big mouth". Now we only hear her sobs and she begs them to stop. At 104 blows the Professor comes in and says the experiment is over. This ends the film.
The DVD extras include out-takes focusing on mistakes during filming and the resulting laughter of the cast. There is a short sexy scene of one of the cute brunettes taking her clothes off. There is a fairly long interview with Mary Runner, the actress who received the 104 cane strokes at the end of the film who describes her emotions and attitude about doing this scene. There are also previews of two other Mood releases.
If you enjoy seeing cute girls get a severe punishment that is sometimes "over the top" and guards who get off on dishing it out, this film is for you. I give Mood's new release a 9.25 out of 10.
Guest Review by Sprite
Stanford Experiment is currently on offer with Gestapo as a "brutality" package.
The storyline is more detailed than Gestapo and involves an experiment into behavioural changes brought about by putting people in control of others. 10 girls are paid to take part in a prison setting. Four are selected as guards and six as inmates.
All the girls are young and attractive and there is a pleasant scene where the six inmates are made to strip naked for defumication with a spray, before putting on their prison uniforms.
The inmates are split into two cells and then undergo various punishments for indiscipline. The first is given 25 strokes of the belt for an act of lesbianism. The second is given 50 strokes of the belt for inability to do exercise pressups. These are administered standing, with hands handcuffed to an upper bunk. The third is given 50 hard strokes of the cane for fighting with a guard, given bending over handcuffed to the lower bunk.
The next scene involves the extraction of a confession of lesbian infidelity by means of electric shock treatment to a very pretty brunette, who is forced to lie spreadeagled on a table displaying all her charms.
I don't know what happened to the fifth inmate as she seems to have escaped punishment. Maybe the actress had seen enough by this time to decide to quit. If so, this might have been a good move as what follows is a very severe thrashing of inmate number six for inciting a rebellion. She is stripped and bent over to receive 100 strokes of the cane which cover her from lower back to upper thighs with expert accuracy, breaking the skin in one place by stroke number 75. The guards continue unabashed and are enjoying themselves so much that they decide to continue after the full 100 and it is only when the administrator enters after stroke 104 that the beating, and the experiment, is brought to an end.
This is another exceptionally well produced film which is an excellent appetiser to Gestapo to provide great value for lovers of severe caning action.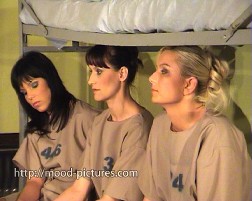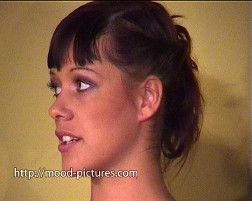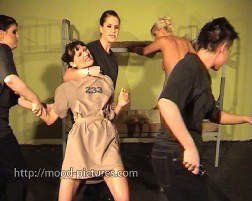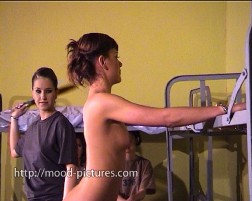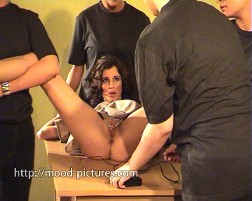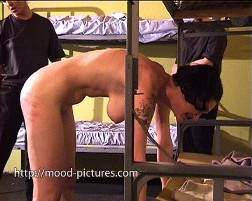 Back to Mood Pictures
HOME


Support our Free Achive Spanking Site by joining one of the sites below.

Marked Butts - Spanking Online - Realspankings - Firm Hand Spanking - Girl Spanks Girl - Clare Fonda Pass - Punished Brats