CHELSEA PFEIFFER ENTERTAINMENT
Click here for Website
Photos used to compliment reviews are posted with the permission of Chelsea Pfieffer Entertainment and may not be posted to any other website without their permission
Strictly Romantic
Starring: Chelsea Pfeiffer
Sinn Sage
Carolyn Reece
Directed by: Chelsea Pfeiffer
Reviewed by: Eric Blair-Brown
Two Young writers learn that the creative process can be very painful. In this production, Carolyn Reece wants to enter Chelsea Pfeiffer's short story contest. This leads to the two very sore backsides.
In the first scene, Carolyn wants to write a story about a heroine who ends up getting spanked by her nemesis. She asks her friend to help act out the dialogue. Instead, Sinn throws Carolyn over the bed and begins acting out the spanking scene. After Ms. Sage gives Ms. Reece a sore bottom, she thinks she might enter the writing contest. So Carolyn gives Sinn her own dose of spanking reality. Both girls are attractive and the scenes are cute. But the best is yet to come.
In the next scene the two scribes have a meeting with Chelsea Pfeiffer. The spanking godess says the girls have promise, but they need more life experience. She puts the young women in costumes and helps them endure a real spanking scene. Sinn is the first to receive her lesson. The bare bottom girl endures a hard over the knee spanking. She squirms, whines and whimpers throughout the ordeal. Sinn rubs her bottom as Carolyn's lesson begins. She's kicks and moans but takes the experience better than the smaller Ms. Sage. Some great camera angles, Two pretty girls and the best women spanker in the business makes this a well done scene.
Strictly Romantic has just the right mix and action, dialogue and pretty women. If you like a well written script... it's there. If you want a DVD with good camera angles and other production values... it's there. And if you just want to see two twenty-something kids getting there butts spanked bright red... it's there. The DVD Strictly Romantic is a fun little production that proves life experience is the best teacher... especially if the lesson is painful one.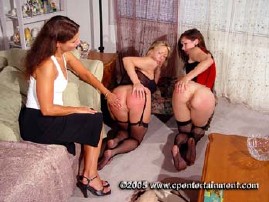 Back to Chelsea Phieffer's Review Page
Back to Reviews Page
HOME


Support our Free Achive Spanking Site by joining one of the sites below.

Marked Butts - Spanking Online - Realspankings - Firm Hand Spanking - Girl Spanks Girl - Clare Fonda Pass - Punished Brats