Pain4Fem
Click here for Website
Photos used to compliment reviews are posted with the permission of Pain4Fem and may not be posted to any other website without their permission
Strict Prison 2

Produced by Diseno Media HPS (Pain4Fem.com) (2006)
Directed and edited by Peter Schuber
Story by Heidi and a fan of pain4fem
Starring Kelly, Kristy, Sandra Sanchez, Sheila and Katja as the Prison Girls
Starring Peter Schuber and Helen as the Senior Prison Guards
Foreign language with subtitles
Running Time 45 minutes
Guest Review by Ronald Scott
This video, featuring two of the top punishment scenes of 2006 and a bevy of cute girls, is the sequel to Pain4fem's excellent Strict Prison. The production also has excellent video and sound quality plus a contemporary soundtrack that enhances this title.
As the video begins we learn that this is a "tough women's prison. So tough that the inmates are given a monthly beating". As the video begins we see a cute blond, Katja, stripping for a beating. She is tied in a way that stretches her out. She receives a fairly severe strapping.
Next up for her monthly beating is another cute blond girl, Sandra Sanchez. Her arms are tied above her head and she is whipped across her back. This is a highly erotic punishment, one of the best of the year. It has excellent face and upper body close-ups and the sound of her cries enhances the effect.
The guards say that "this is the last one for today" and leave as the beaten girl dresses in a cell. If the girls had undressed and dressed more slowly these two scenes would have been even better as they both have great figures.
Returning to their office, the guards send a cute blond guard (Kelly) to inspect cells 17 and 18. When Kelly arrives she is overpowered by the two inmates who are dressed in orange jumpsuits. They tie her with her hands over her head and her back against the bars of the cell and strip her to the waist. Then in another outstanding scene, one inmate, Kristy, whips her across her breasts and upper body. Kelly was one of the stars of Strict Prison and she outdoes herself here in a very sexy and erotic punishment scene.
Eventually the other two guards arrive and rescue the desperate girl and, of course, start punishing the two prisoners. First they strip and tie up the blond inmate, Sheila, in a way that enhances her lovely breasts. The man says that in the future they really have to work in pairs. The female guard says to "take more time so she feels every blow". She is beaten with a doubled plastic tube across her ass and here are some excellent face shots of her suffering.
Finally the other inmate, Kristy, is stripped as she struggles to escape. The slim black haired girl is bent over a simple bench and is caned across her ass and thighs in a long and painful punishment enhanced by her cries.
If you have a taste for prison scenarios, fairly severe punishments, and cute blond girls, then you will enjoy this production. I give it a 9.5 out of 10 mostly because of its two stand-out punishment scenes, and look forward to seeing future releases from pain4fem.com .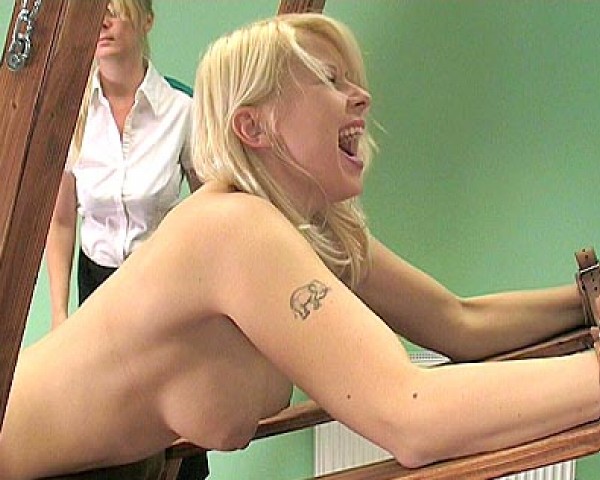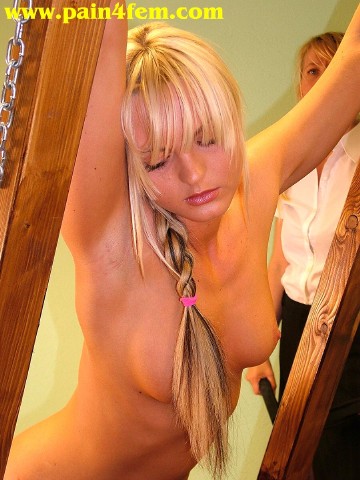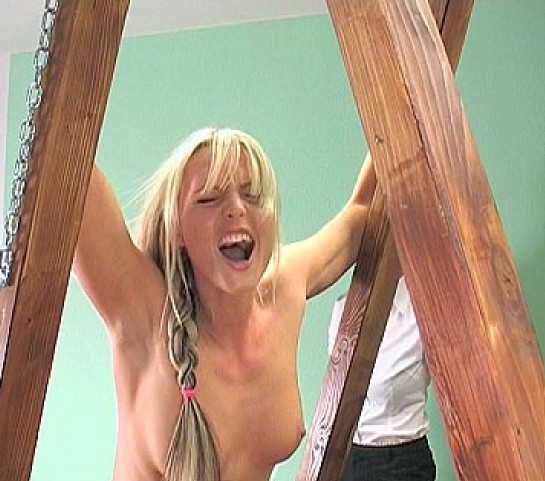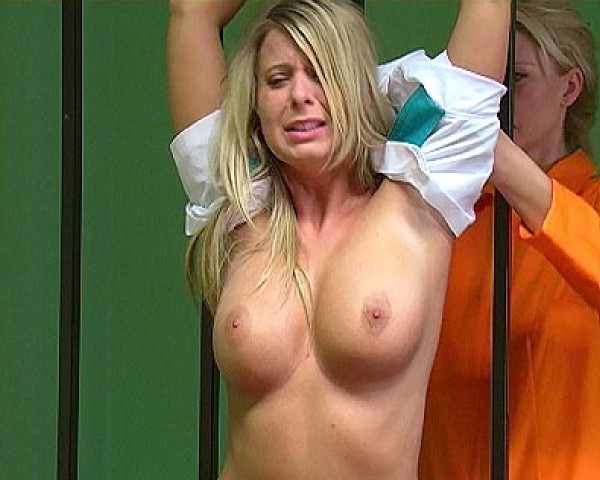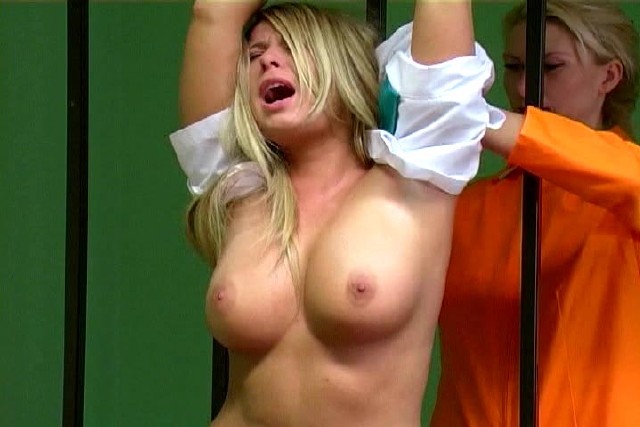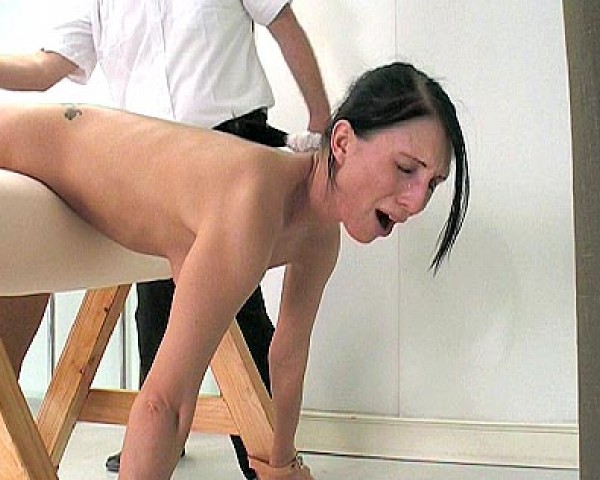 Back to Pain4Fem
Back to Reviews Page
HOME


Support our Free Achive Spanking Site by joining one of the sites below.

Marked Butts - Spanking Online - Realspankings - Firm Hand Spanking - Girl Spanks Girl - Clare Fonda Pass - Punished Brats