SHADOW LANE

Click banner for Shadow Lane's Website
Photos used to compliment reviews are posted with the permission of Shadow Lane and may not be posted to any other website without their permission
Super Spanking Revue

Written and Directed by : Eve Howard
Produced and Edited by: Tony Elka
Review by: David Pierson
From the good people that brought to you " The Romance of Discipline" this production of 'Super Spanking Revue' is a love letter from Shadow Lane to their legion of fans. Now, of course you know that any expression of love from Shadow Lane Productions means lots of spankings. The company that revolutionized the genre of spanking video erotica over a decade ago has once again achieved a major artistic success with this highly entertaining production. This is easily the best compilation spanking video ever made. In this fantastic work Ms. Howard and Mr. Elka take us on a trip through the land of spankings past. We start our journey with scenes from 'County Club Wives' (SLV-088) and ninety minutes later we conclude our trip down memory lane with snippets from 'Tony and Eve: A College Fantasy' (SLV -001).
Since their arrival on the scene in 1987, Shadow Lane has changed the context and nature of the spanking video. Every producer of spanking video erotica today has been influenced by the work of Shadow Lane. All Shadow Lane productions feature a creative and very sexy script by Eve Howard, glamorous performers and some of the highest production values in the industry.
In this wonderful production you will see several legends of the spanking cinema having their bottoms reddened. For your enjoyment, Kiri Kelly, Chelsea Pfeiffer, Jennifer Brooks, Angela Faith, Star Chandler, Jacqueline Omerta, Eve Howard and many others receive hard bare bottom spankings. You will see scenes of Boy spanks girl, girl spanks girl and women spanking men. Hey, it is worth the price of admission just to see Vinnie Spit getting spanked.
The viewer should be warned that this video contains scenes of a graphic sexual nature and many of the spankings are rather severe. So if you are disturbed be scenes of graphic sexuality and severe spankings you have been duly warned. I know how sensitive some of you are.
Aside from the sheer fun that is 'Super Spanking Revue', this video is also a technical triumph. Tony Elka did a masterful job in editing this production. Mr. Elka is, in my humble opinion, the best editor in the business. One scene blends seamlessly into the next. The audio mix is also fantastic. If you are a lover of spanking video erotica, you simply must add this video to your collection. This is an experience not to be missed.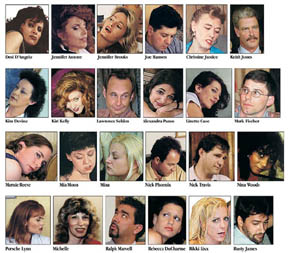 Back to Shadow Lane's Review Page
Back to Reviews Page
HOME


Support our Free Achive Spanking Site by joining one of the sites below.

Marked Butts - Spanking Online - Realspankings - Firm Hand Spanking - Girl Spanks Girl - Clare Fonda Pass - Punished Brats