This is a very difficult review for me to write. Mainly, because it is hard for me to sit down today. My husband, David Pierson, is making me write this as an act of contrition. Not that it's hard for me to review a Dallas Spanks Tiki video. I think that they are the hottest couple in the spanking scene today... don't you? I mean he is so damn handsome. He's got this great physique, dark skin and hair and those trademark earrings. Tiki is just so beautiful. She is tall, athletic and has the most marvelous rear end. Now here I go making myself hot and I don't have access to my vibrator. Believe it or not, I lost my vibrator privileges last night! Allow me to explain. I am a physicist and I work for the federal government. ( US that is.) Last night was our branch Christmas Party. David never goes to our parties. He can't stand the " Pocket Protector Brigade" as he refers to my rather nerdy co-workers. I myself have a Ph.D. in physics. So while I was making merry with my fellow nerds, my loving husband was out buying my Christmas Presents. We do this every year. He always gets me all of this nice stuff from Victoria's Secret. Believe me, it's the gift that keeps on giving. Then there are all sorts of surprises in addition to my new undies. It seems that I made a bit too merry at the Christmas party and I had imbibed too much Chardonnay. My husband tells me every year that if I drink too much and need a ride I am to call him. I really used poor judgement and I drove myself home. I arrived at the house shortly before David. I was relived to find him not at home. I ran, ok.. stumbled upstairs, washed up, gargled put on my nightshirt and jumped into bed. I was hoping to hide my state of inebriation. When he came home, David was surprised to find me in bed. He asked me if I was feeling all right. " Just tired" I replied. This aroused his suspicion, It was barely midnight. When he checked me out further he could tell that I was a little tipsy. Boy did he get mad! He lectured me about the dangers of driving while intoxicated for a minute or two. Then he went into the next room to get that loathsome wooden hairbrush. He pulled me out of bed, pulled up my nightshirt, lowered my panties and placed me across his lap. He spanked me until I cried. Now, I don't usually cry when David spanks me. However, this time I was ashamed of what I had done and David was right to punish me. (It also hurt like hell!) Unlike most of our spanking sessions, there was no sex afterwards. There was just me, in bed, alone, rubbing my sore bottom. David grounded me too. I can't go out after work and he took away my precious twelve-speed vibrator. (I still have use of my hands but it's not the same.) Don't tell anyone, but I am having an affair with my vibrator. To make matters worse, he gave my housekeeper off for the week with pay. I actually have to clean the house and do the laundry myself. Haven't I been punished enough? I said this to my loving husband and I got another smack across my behind. I guess that was my answer...no! David had started this review but he felt that my situation was very similar to that of the lovely Tiki's in the opening segment of this video. He thought that I might learn something from watching Tiki suffer the consequences from her misdeed. Or, perhaps it's further punishment for me. My husband is a devious fellow. He knows that I'll get all hot and bothered by watching and writing about this video... and I'm without my vibrator!!! Don't you think that's just mean?

In the opening segment of this superb video by DST productions we are granted the great privilege of witnessing Tiki's punishment for the offense of drinking and driving. It seems that Tiki had gone to a LA Lakers game and had a few too many beers. Tiki, don't feel too bad... we all make mistakes. The opening portion of this video is entitled: Punishment in Black. (No, Johnny Cash isn't in this video)

Segment I: Punishment In Black

This portion of "Tiki's 90 Minutes of Hell" begins with the amazingly handsome Dallas giving us the reason for Tiki's chastisement. When we first see Tiki, she is wearing a very sexy long black dress. She is made to lie across a nearby Ottoman and a pillow is placed under her belly to push her bottom into a vulnerable punishment position. Soon Dallas pulled up that lovely black dress and revealed Tiki's black thong covered bottom. It seems that I'm not the only one who likes Victoria's Secret. Just thinking of this scene is making me very hot. It's a good thing that I can type with one hand. Dallas begins to punish Tiki with a nasty looking thin leather strap. I don't know how the poor girl held still. It was clear that this was a punishment. He beat her beautiful bottom hard and fast with the little leather implement. Her bottom jumped to the beat of the strokes that Dallas applied and yet the glamorous Tiki held firm. Over the next several minutes Tiki's panties were lowered and she was given a hard leather strapping, a caning, an over the knee spanking by hand, wooden paddle and bath brush. The sight of Tiki being spanked across Dallas' lap gave me chills and now the though of it is making me wet. Where the hell did that husband of mine put my damn vibrator! Allow me to catch my breath..collect my thoughts.. masturbate. Ok, now where were we. Punishment In black is intense, intimate and very sexy.

Part II: Plastic

As the second segment of this video begins, the lovely Tiki is sitting on a stool with her back to the camera. At first I didn't recognize the glamorous first lady of spanking erotica. She was wearing a brunette wig with a short style. Also, she was wearing very fashionable sunglasses. Tiki, were they Dolche & Gabbanna? She looked so very Selma Blair. Dallas then explains that Tiki's impending punishment is the result of her having taken his credit card and treated herself to a shopping spree. (She didn't leave home without it.) I'll bet she bought a wig and sunglasses. (Just a guess.)

Tiki soon found herself bent over a table. Her fashionable shorts were lowered by the ever so hot Mr. D, revealing a lovely pair of white thong panties. Dallas began to whip Tiki's lovely behind with one of the nastiest implements of punishment that I have ever seen. I don't know what you call this thing. In a way it looks like a very flexible fishing rod. It made a loud SWISH as it cut through the air on the way to Tiki's beautiful bottom. At the conclusion of this session, the masterful Dallas asked what lesson our heroine had gleaned from her punishment. She replied " I learned not to take your credit card without asking....but you're the one who tells me that my clothes look like shit." Tiki, you started that statement off so well.

When next we see our heroine from Hollywood, she is lying across the kitchen table. A blanket was placed under her belly to push her behind up into the air. Dallas lowered Tiki's Victoria's Secrets and spanked her bottom with a clear Plexiglas paddle. Dallas hit her behind so hard that the scorpion tattoo on her lower back cried. Next Dallas started to smack Tiki's bottom with a wooden paddle. My favorite part of " Plastic" was when Dallas took Tiki over his knee. He spanked her hard with a black paddle, a bathbrush and then his hand. I found this segment to be totally sexy. Just the memory of this scene is making me hot. I need my vibrator! This is cruel and inhuman punishment.

Just when you thought the action was over, we are treated to a special added feature. Unlike the first two segments, this one was playful in nature. We see Tiki dressed in a vinyl nurse's uniform. She was punished for giving the men on her unit too many injections in their behinds. Maybe she could give my nasty husband one. (I feel another session with the hairbrush coming on.) Even here, Tiki was treated to a hard punishment. Dallas whipped nurse Tiki.

I loved this video. As you know, Dallas turns me on! I also find his lovely mate to be incredibly sexy. When Dallas spanks Tiki we are all treated to a very special erotic experience. It's intense, intimate and exceedingly sexy.

Well, I have to go now. I must do the laundry. Hmm... maybe I can try sitting on the dryer?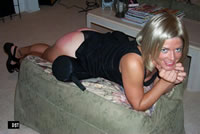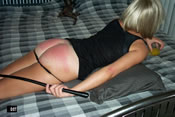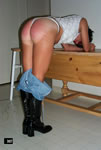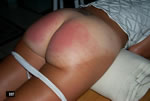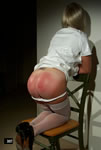 Back to Dallas Spanks Tiki Review Page
Back to Reviews Page
HOME


Support our Free Achive Spanking Site by joining one of the sites below.

Marked Butts - Spanking Online - Realspankings - Firm Hand Spanking - Girl Spanks Girl - Clare Fonda Pass - Punished Brats