SHADOW LANE

Click banner for Shadow Lane's Website
Photos used to compliment reviews are posted with the permission of Shadow Lane and may not be posted to any other website without their permission
To Have And To Scold

Starring: Sierra Salem and Dallas Directed by: Eve Howard
Reviewed by: Eric Blair-Brown
Jealousy can be a pain in the ass. Maybe the best way to fix the problem is to give a young woman's posterior a similar sensation. To have and to scold stars the adorable Sierra Salem and the one and only Dallas. The storyline is simple. A young girlfriend is jealous of her beau's ex and does all she can to sabotage their relationship. To put an end to the situation, the boyfriend takes his naughty girlfriend in hand and gives her a series of well deserved spankings.

The production stars Dallas as Craig and the lovely Sierra Salem as Torri. In the first scene, Craig finds out Torri has been spying on his emails and has destroyed a birthday card sent by his former significant other. A defiant Torri denies the allegations, until she's over Craig's knee. After a few whacks, the girl admits to her transgressions. Craig assures the young woman she has nothing to worry about, except for the spanking she's about to receive. Sierra is a pretty young girl in a cute little skirt. Soon, the hard hand of Dallas has the youngster squirming and ouching throughout the punishment session. The over the knee spanking begins on the skirt, then the panties and finally on the bare. The scene ends with the chastised girl standing against the fireplace showing her sore bottom.

In scene two, Torri is fighting fire with fire and tries to make Craig jealous. Her attempt only leads to another over the knee session. The mature boyfriend uses his hand and a paddle to discipline his teenage girlfriend. Craig is determined to teach a valuable lesson but young Sierra laughs and talks back throughout most of the punishment. A long session with the paddle takes some of the starch out of the little brat. To end the scene, Craig bends the girl over the arm of a sofa and gives her ten whacks with a strap. Craig leaves the girl to think about her transgressions. In true Sierra fashion, she turns to the camera and gives the audience a sly grin.

This production has excellent production values. Dallas continues to earn his reputation as one of the hardest spankers in the business. Sierra is a delight to see over someone's knee. Even if you weren't into spanking, Ms. Salem comes off as a typical spoiled teenager. I think even people who don't believe in using corporal punishment on children, would throw Sierra over their knee. The DVD also includes a bonus scene Starring Keith Jones and Miranda Fay. A cowboy whips his girl good for acting poorly at the town social. To have and to scold is fun. It teaches the lesson that the best way to cure a jealous girlfriend is with love and a big old paddle.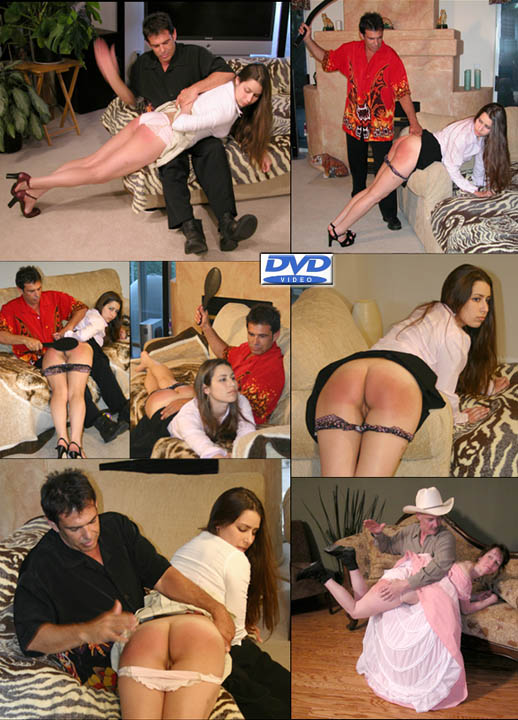 Back to Shadow Lane's Review Page
Back to Reviews Page
HOME


Support our Free Achive Spanking Site by joining one of the sites below.

Marked Butts - Spanking Online - Realspankings - Firm Hand Spanking - Girl Spanks Girl - Clare Fonda Pass - Punished Brats