SHADOW LANE

Click banner for Shadow Lane's Website
Photos used to compliment reviews are posted with the permission of Shadow Lane and may not be posted to any other website without their permission
TURN THE OTHER CHEEK

Directed and Produced: Eve Howard
Reviewed by: Aldus W. Huckster
Staring: Kristie Imboch as Eugenia
Artemis Antone as " The Stripper"
Here we have a "glowing" example of the Female Spanks Female genre of spanking video. This production features the beautiful Artemis Antone as the Stripper and the indomitable Kristie Imboch as Eugenia, an annoying door to door evangelist. One of the major strengths of this production are the performers who brought this intensely erotic screenplay to life. Ms. Imbach and Antone have been in "the scene" for several years and each has several other video credits to their extensive resumes. Interestingly, Artemis Antone is a second-generation video star, following in the illustrious footsteps of her mother, Mistress Jennifer Antone. Kristie Imboch has been involved in writing, directing, producing, and starring in spanking and bondage videos for several years.
The story line is simple; Eugenia, a door to door Evangelist disturbs the rest of an erotic dancer early on a Sunday morning and is taught a lesson for doing so. There is not much of a set-up here, so we proceed right to the action.
After a short scolding the punishment begins. We are treated to sight of a bottom blistering hand spanking of Eugenia by the incensed and sleep-deprived erotic dancer. As Eugenia's punishment spanking unfolds, an item of clothing is removed by the avenging stripper, until the beautiful peripatetic evangelist lies naked before her.
After concluding the initial phase of Eugenia's chastisement, Artemis the stripper wishes to punish her unwelcome guest through humiliation. She forces Eugenia the proselytizing preacher to dress like a stripper. She has her put on black panties, bra, sexy black stockings, and black stiletto heels. After being forced to endure this humiliation, Eugenia's body is caressed and inspected by the probing hands of the Stripper. Draping the powerless evangelist over a couch, Artemis resumes the spanking. As the spanking continues, so does the caressing and rubbing. Interestingly enough, as the spanking goes on, we can see Eugenia get turned on by it. She begins to ask for more, and even directs Artemis where to spank her ("could you do more on the left, please"). Finally, Kristie is wearing a new, provocative, red dress and the spanking continues. After a few minutes Artemis gets the riding crop so she can finish Kristie off.
Watching Kristine Imboch get a spanking has always been a turn on for me because she has such a lovely and spankable bottom that reddens up ever so nicely.
This is a must have video for lover's of female spanks female spanking videos. I found the verbal interplay between the spanker and spankee to be highly erotic.
Oh, by the way, you have to stay with this video for about 1 minute past the end. There is a delightful little surprise out-take.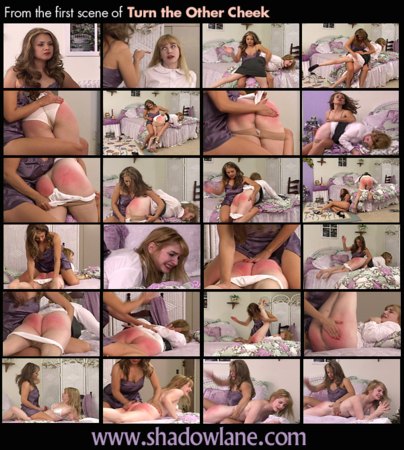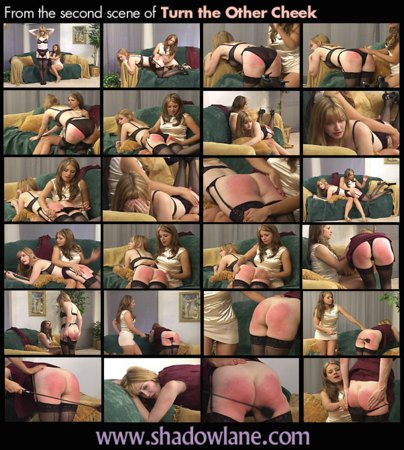 Back to Shadow Lane's Review Page
Back to Reviews Page
HOME


Support our Free Achive Spanking Site by joining one of the sites below.

Marked Butts - Spanking Online - Realspankings - Firm Hand Spanking - Girl Spanks Girl - Clare Fonda Pass - Punished Brats