FAR EAST MEDIA PRODUCTIONS
Click here for Website
Photos used to compliment reviews are posted with the permission of Far East Media and may not be posted to any other website without their permission
Volume 2

Directed and Produced: by Steve Trainer
Reviewed by: Aldus W. Huckster
This is the second video released from this new entrant into the spanking video market. From their name, one many have assumed that their productions emanate from somewhere in Asia. Actually, you can find Far East Media in Philadelphia, Pennsylvania, The Hollywood of the East. So actually you need go no further east than the Delaware River. FE 2 " Taylor" is an intensely erotic experience. Actually, in watching this video I was reminded of the old joke: I went to the boxing match the other night and a hockey game broke out. With regards to " Taylor": I was watching this terrific and intense spanking video and a porno film broke out. (All I know is that something broke out) This video stars Taylor Lawe and Joseph Lewis. Taylor makes the perfect spankee for several reasons. She is petite, perky, voluptuous, and in general a knockout little blonde. But what makes her the perfect spankee is her "in your face demeanor. She exudes an attitude of "this is what I am, and if you don't like it, take a hike". It is because of this that we are just dying to see Joe provide little Taylor with an "attitude adjustment". As the video opens Taylor is interviewed by director, Steve Trainer. In this short interview you will immediately experience the attitude (philly'tude) that I have referred to. She explains that she is 24 years old, bi-sexual (although she has a preference for women), and that she has tried a spanking video once before with unhappy results. When asked why the results were less than gratifying, she says that it hurt. Well in no time at all she is told to strip completely, and finds herself over Joe's knee and the spanking begins. Joe starts out slow and sensual. This whole scene reminds me of the famous John Forgerty song (as sung by Ike and Tina Tuner) "Rollin on the River" because it starts out slow and keeps on building. When Joe has her telling him, how much she is enjoying the spanking, and how it is turning her on - he turns up the heat. In about 15 minutes she is yelling, screaming, cursing him, and begging him to stop. His response is just great - "I couldn't do that even if I wanted to, and I don't want to" he proclaims. Just when her beautiful butt begins to turn a bright red, Joe grabs a hairbrush. Now it's time to really show her what a spanking is all about. He lays on the hairbrush for another 10 minutes or so, and now Taylor is in tears, and begging at the top of her lungs. "I will never, ever do this again," she yells.
Now we get to the sexually explicit part of this production. Joe begins to rub and caress that gorgeous ass, and she is getting turned on. So she reaches between her legs and starts fingering her "Garden of Eden". After a few minutes of this the video ends - Oh no it doesn't. Suddenly, we find ourselves treated to a bonus scene of Taylor, with that sublime body spread out on a couch, legs spread wide for the whole world to see, and she is masturbating herself with a very large vibrating dildo. Several times she took the dildo from her lovely pussy and placed it in her shapely mouth. Soon, Taylor switches to a wand type dildo and strokes her clit for a several minutes. This scene is so hot that you may feel as if you will explode. (And you may...explode that is) This woman has something - charisma? (At least I hope that it's charisma) Joe is an accomplished spanker, and this fact definitely adds to the enjoyment of the video. Should you be a woman into spanking videos then you will be glad to know that he is also very handsome, and that should add to your enjoyment. But for me it's the sassy attitude, and gorgeous body of Taylor's that does it for me. She is definitely worth the price of admission. On the Spank-O-Meter this video is a 9 ½ out of 10.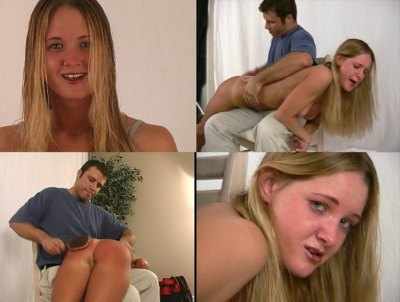 BONUS FEATURE
David Pierson Interviews Taylor Lawe
David: Hi Taylor. Thanks for talking to me about your video for Far East Media.
Taylor: No problem. I'm happy to help Steve ( Trainer) in any way that I Can.
David: Speaking of Steve, he tells me that you really hate to be spanked. He Said that you had tried it in another company's video production and totally hated it. What compelled you to try it again if you aren't into It?
Taylor: Money, what else?
David: Well most of the young women who appear in spanking videos are professional submissives. If you aren't a submissive how did you survive that very hard spanking at the hand of Joseph Lewis?
Taylor: I have acquired a high threshold of pain to say the least. Not to mention that I have a regular who comes to my home to spank me twice a month. Not as hard as in the video, but enough so that I have learned to deal with the pain.
David: What are your goals as a model / video star?
Taylor: I don't think of myself as a model. Strangely, I don't actively look for video work, it finds me. I run my own website and that keeps me very busy.

David: What is the name of your site?
Taylor: www.fuckingonfilm.com .
David: Very subtle.
Taylor: Isn't it?
David: Is there anything else that you would like our readers to know about you?
Taylor: I will soon have my own line of videos that will be available at www.risquevideo.com. I will also become their spokes model as a full time gig.
David: Taylor, thanks for the interview.
Taylor: See ya.
Back to Far East Review Page
Back to Reviews Page
HOME


Support our Free Achive Spanking Site by joining one of the sites below.

Marked Butts - Spanking Online - Realspankings - Firm Hand Spanking - Girl Spanks Girl - Clare Fonda Pass - Punished Brats