Pain4Fem
Click here for Website
Photos used to compliment reviews are posted with the permission of Pain4Fem and may not be posted to any other website without their permission
The Pioneers

Director: Peter Schober
Starring: Valerie as Martina
Kelly as Aneta
Vivien as Lenka
Samantha as Beata
Deni as supporting girl
Helen as Nowakova
Peter as Stanek
MF/3f
Running Time: Approximately 65 minutes

Second review by MARS posted 6/3/11
Good story line (described in detail in the prior review) with solid punishment, pretty bottoms, and high production values this company generates. Young girls, 'Czech Pioneers,' spend voluntary periods at a remote chalet, where they experience communal living and political indoctrination. It turns out also, lest you had any doubts, that camp discipline is swift and of a corporal nature.
Pretty, tall brunette Martina (actress Valerie) is dropped off by her father and is escorted to her room, where she meets her roommates, blondes Aneta and Beata. She hands over her 50 crowns "travel money" to Madame Comrade. Martina quickly strips down to bra and panties (such scenes common and always nicely down in P4F) and puts on the camp uniform. She has been here before and tells one roommate, Beata, a diminuative pigtailed blonde, that this camp is fun. However, it is not difficult to imagine that all three of these girls will get into trouble and face some painful moments that are not fun.
After a scene of evening recreation and a political meeting for seven camper girls--our three roommates retire to their dorm room and plays cards in their pajamas. Aneta (actress Kelly) pulls out contraband cigarettes--the girls know smoking is not permitted. Aneta lights up, Beata joins in, but Martina declines. Madame Comrade catches them, locks them in, and reports the incident to her associate Stanek, the actor/producer Peter Schober, the resilient camp duty disciplinarian and master-spanker.
Stanak arrives and hears the charges. The girls will be punished--spanked, here and now. Stanek seats himself. Aneta is taken OTK, pj pants down, followed quickly by her little flowered panties--the erotic ritual. Actress Kelly has a hard, athletic, full feminine bottom and has spent some quality time under the hand of Peter in various P4F films, yet remains fresh and naive. And we hope you share our enthusiasm for spankings meted out to girls in pajamas.
Stanek spanks Martina next. Gray slacks and pink panties down. Standard smacks, crisply done. The girls go to sleep; Martina dreams and we see depictions of other girls (Aneta and actress Vivien) being spanked over a trestle or whipped bare-back. Martina schemes on how to entangle Aneta so she gets whipped. She steals the travel money file and stashes it under Aneta's mattress, but Stanek secretly observes.
In the morning, we get another P4F nudie scene, Aneta (Kelly) stripping and taking a shower, and few could do it better than this actress. The theft is discovered by Madame Comrade; the girls are summoned and lined up. "One of you is a thief." Scenes like this, thanks to Rigid East paving the way, mean that multiple spankings are on the agenda. Rooms are searched, the money is found in Aneta's bed.
She denies of course. Spanking master Stanek is summoned by phone. After minimal protest, Aneta strips naked, except for cute white socks and mary janes. Another look at her dynamic body. She bends over the back of a chair, positioned perfectly so that her memorable boobs hang over the top, and gets a birching. Madame hands Stanek the cane for a long, moderate session. Good obedient Czech girl that she is, she takes this medicine even though she is innocent.
Stanek pulls Madame aside and reports he saw Martina pilfer the envelope. Aneta is allowed to dress. Stanek is sent to get the "caning horse." Martina is confronted and soon confesses. Now it is her turn to strip naked.("Oh no, please") Like Aneta, she wears no bra and there is not a hair to be seen. She is fastened over the familiar waist-high wood trestle, belted across the back, but tied with hemp at wrists and ankles, so we don't get the metallic buckle rattling so intimidating in other films.
"To get her warmed up, start with the birch." Moderate session, but Martina's bottom rouges nicely. It's to be 50 strokes of the cane, counted out by the four girls watching. Nice ritualistic procedure,, closeups, squealing and jerking on the trestle, but not cruel and wicked.
Martina is released and dismissed naked, the professional CP cameraman dutifuly following her red bottom in closeup out the door. She lies naked on her bed, trying to recover.
The film ends with excerpted repeats of the spanking scenes, very professional.
Original review by John O'Connell
At one time when you wanted a quick fix to your spanking urge, your options were rather limited. Anything of worth had to be ordered through snail mail catalogs, so more often than not, you'd end up taking a drive to the nearest adult bookstore and taking home something that ended up being a waste of money. Set to cheesy music, the performance was at best mediocre. Today, you don't have to worry about that. The cheesy movies are all but extinct from your option list and they have been replaced with a new wave of spanking art. The Pioneers is not a spanking video. It is a masterpiece of award winning caliber. It is a creative work that envelops you into the story line and consumes you. Think I'm being too generous? Read on my friends, read on.
Had it not been for the nudity and prolonged spanking scenes, this film could very well have passed for a TV special. The story and information given to the viewer is so specific and realistic, this could easily have been a show on the Discovery Channel. The film opens to a car driving down a road with snow banks and barren trees lining the sides. We see Martina seated in the back with a voice over talking in the background. This feature appears throughout the film and only intensifies the strong feeling of authenticity. We learn that the Pioneers was a group of young women being brought up in the Communist party. The story takes place in 1986 and Martina's father is bringing her to the lodge in which the girls stay for short periods of time. After being dropped off, Martina trudged through the snow to reach the front door of the 2 story lodge. Martina meets with Madam Nowakova, the person in charge. She hands Nowakova money that is used for travel before being shown to her room. Martina is introduced to her new roommate, Aneta. The two become acquainted as Martina changes into her uniform.
The background music that is played throughout is also of a culture based familiarity. I can almost hear Ronald Reagan's famous speech each time the music comes on. The girls are then shown playing various board games, including a small table hockey game. Talk about going down memory lane, haven't seen one of those in years. All the while, Martina talks via voice over to explain how life is at the camp and what various things they do. They even are shown adjusting a small TV antenna, trying to get a channel tuned in. Ah, the days before cable was in every home. We then are transported to Martina's room, where Beata, Aneta, and herself are playing cards. They are all adorned in their respective pajamas and are enjoying the friendly game. Martina wins, which causes Aneta to desire a cigarette. She retrieves a package of smokes and lights one up in front of the two stunned girls. Smoking is not permitted and if they are caught, serious punishment could be handed out. Aneta asks the other two girls to join her and Martina agrees. She lights up and is less than pleased with the taste. She has indulged in Western cigarettes before and prefers their taste. Beata refuses to become involved, stating only bad things can become of it.
As you might have guessed, the tobacco indulgence would not go unnoticed. Nowakova detects an odor of smoke and storms into the room. The girls try to extinguish their contraband, but have been caught red handed. Nowakova orders them to stay put while she makes a phone call. The girls wait in fear while the madam phones Comrade Stanek. Stanek is seen enjoying the contents of a porn magazine when his phone rings. Nowakova asks him to meet her on the first floor. She leads him into the dorm room where he is informed of the girls misgivings. She asks that the miscreants be spanked. Stanek takes Beata over his knee, and just before he fires off the first smack, Nowakova stops him. She explains that only the other two were smoking. Beata is let free and Aneta is pulled over his lap. He spanks her soundly over her pajama bottoms. He would then lower her nightware to expose her printed white panties. He proceeds to commence the punishment before lowering them to reveal her tender cheeks. The final round of hand spanking leaves her bottom red and sore. Now it's Martina's turn. She is spanked over her pajama bottoms, pink panties, and bare bottom as was Aneta. However, since she was found with the package of cigarettes, Nowakova asks that she receive double punishment. He continues with the bare bottom spanking until her hind quarters are a pleasant shade of crimson. Beata is sent to her room, while the two smokers are ordered to bed.
Martina lies awake in her bed, thinking about what had just taken place. This is the first she had ever been in trouble and was becoming angry. She was upset that she received a double spanking when Aneta was the one who brought the cigarettes into the place and not her. Martina then remembers the time Lynka was punished severely for selling West German magazines. We then are brought back in time and see Lynka being secured to a table by Stanek. He pulls her skirt up and pulls her white panties down. She is given 50 lashes with a leather strap on the bare bottom. Lynka is then shown with her hands secured above her head as her bare back is lashed. Martina then envisions Aneta being strung up in the same fashion and having her bare back lashed. I thought this would be a quick fantasy, but the lashing lasted a long time. I lost count at fifty strokes. Then Martina remembered the travel money. She slips out from under the covers and tip toes down the hall to the office. As she steals the money, Stanek enters the hallway with toilet paper in hand. He sees Martina, but doesn't bother with her. Martina returns to her room and hides the money under her pillow for the time being. Once morning comes, Anita rises from her slumber. She stretches, rubs her still sore bottom, and exits the room. Aneta enters the shower where she strips naked and partakes in the waterous cleaning session. She caresses her breasts while delicately rinsing herself off....ahem....what was I talking about? Oh yeah. Martina then uses this opportunity to place the money under Aneta's mattress.
While everyone is in the dining hall, Nowakova storms in and demands the group stand before her. She states there is a thief amongst them and that the guilty party best confess now. No one owns up to the crime, so Nowakova has them stand against the wall while she searches the rooms. She returns and grabs hold of Aneta. Martina's voice over states that Aneta's red rear was going to become redder. She is correct in that assumption. Aneta was brought to her room and shown the money that was under her mattress. Aneta tries to plead her case, but to no avail. The madam summons Stanek once again. She does not inform him what the infraction was, only that Aneta needed to be severely punished. Aneta was ordered to strip naked and then placed over a chair. She received 20 swats with a birch on her bare behind, before being made to endure 50 strokes of the cane. She moans loudly to the pain inflicted by the cane. When the punishment concludes, she is left with a bruised and battered behind. As Nowakova scolds Aneta about stealing, Stanek pulls her aside to explain what he had seen the night prior. It didn't take long to realize Martina was the true thief. When asked why Martina would have ill will against her, Aneta explained that she was the true owner of the cigarettes and that Martina was angry with her for receiving a longer spanking.
Once Aneta has clothed herself, Nowakova brings her back to the dining hall. She calls Martina up front and demands she tell the truth. Even with being told Stanek saw her in the office, she maintained her innocence. Finally, she breaks down and confesses. Martina covers her mouth in horror as Stanek brings a punishment bench into the room. She is made to strip naked and is secured to the bench. As part of her punishment, all the other girls would witness her beating. She is given 20 swats with a birch to warm up, followed by 50 heavy strokes of the cane. Martina's peers must count out each stroke as it is given. Martina screams as her voice over gives a brief description of the experience. When the last stroke is administered, she is freed from the table. Her bottom is red and bruised, much like that of Aneta. She gathers her clothes and returns to her room. She is found lying face down and naked while she sobs into her pillow. The voice over comes on for one last time. She never again received such a punishment and realized how foolish her revenge plot was. Aneta and Martina became good friends after this ordeal. The film ends with slow motion shots from several scenes in the film.
As the credits rolled, I bent over to gather my trash and started for the exit. Then I realized I was at home and not in a movie theater. However, I sure felt like this was something that could be played out on the big screen. I don't know what else to say other than I loved this production. It was fantastic. And, the DVD version has extra goodies on it for you to enjoy as well. So, yes, I recommend this one. Go, get it. Now. You can even download a DVD quality copy from their website.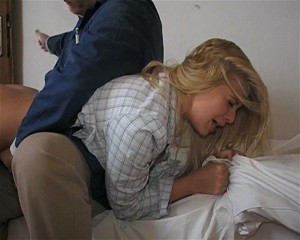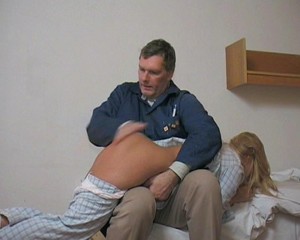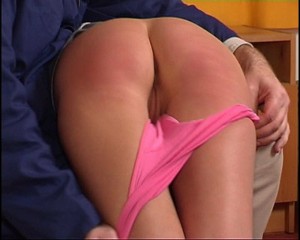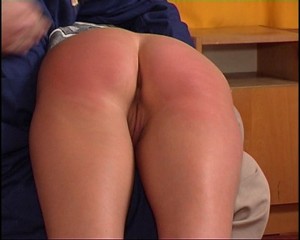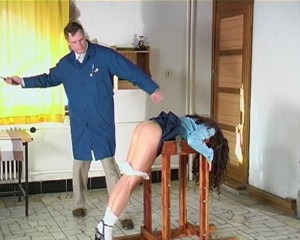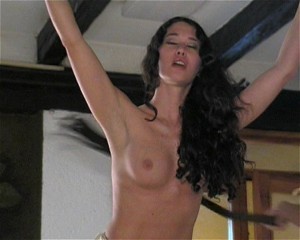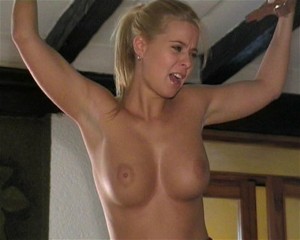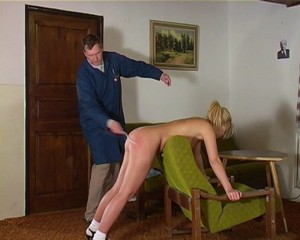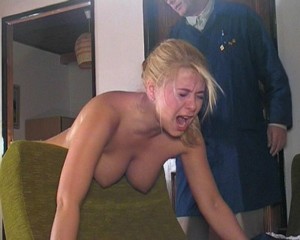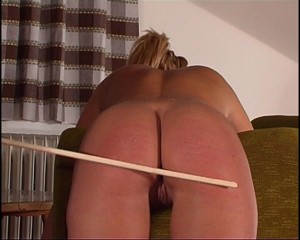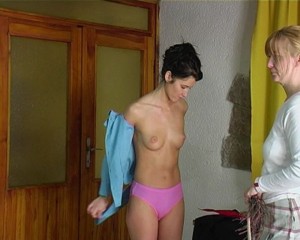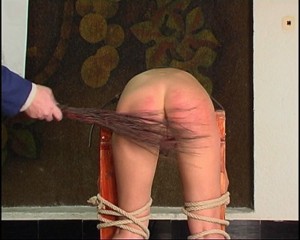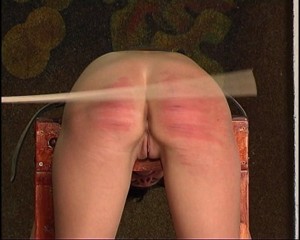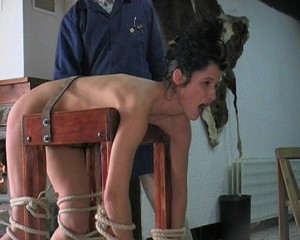 Back to Pain4Fem
Back to Reviews Page
HOME


Support our Free Achive Spanking Site by joining one of the sites below.

Marked Butts - Spanking Online - Realspankings - Firm Hand Spanking - Girl Spanks Girl - Clare Fonda Pass - Punished Brats